Salome Ugulava
Journalist and Editor in Chief at Tabula TV and digital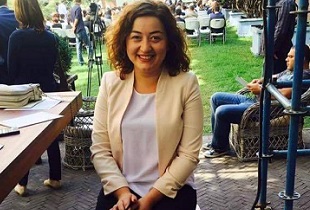 Salome is Editor in Chief at Tabula TV and digital.
She is a Fulbright alumnus and a Columbia Journalism School graduate and also teaches at the Media School of the Georgian Institute of Public Affairs.
Salome received her Bachelor's degree in Journalism from Tbilisi State University and Master's degree in Public Administration from Ilia State University before going on to Columbia University in New York.
Her action plan is to support and promote the rule of law, good governance and transparency in Georgia through the strengthening of the media. Her goal is to implement an effective strategic and organisational transition at Tabula which will increase its reach and influence, boost its watchdog function on government and hold authorities accountable. Specifically she wants to look at how the UK media covers parliamentary activity, how to boost Tabula's social media presence, how to equip reporters to be multi-functional and how disinformation can be countered.