Serhii Andrushko, 2011 Fellow
Journalist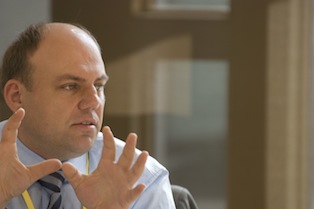 Sergii is a Reporter and Author within the Department of Documentary Broadcasting at the TV Channel STB. STB is a Ukrainian commercial television network with a coverage area of roughly 98% of Ukraine's territory. As part of a new documentary, Sergii is currently exploring a number of reforms in different fields that have been successfully implemented in neighbouring countries.
Sergii has worked at the TV channel since 2000. In 2003 he was appointed as Special Correspondent for the news programme Vikna Novyny after graduating from the Institute of Journalism (Journalism, MA). He is an experienced and accomplished TV journalist and is also active as a campaigner for media reform. In 2010 Sergii was recognized as one of the best TV reporters in Ukraine as he received the reporter nomination of the Teletriumf – a prestigious annual Ukrainian prize for excellence in the television industry.
Sergii cites the limited access to public information as one of the main causes behind the government's lack of accountability. The law 'On Access to Public Information' was passed in Ukraine on 13th January 2011 and will come into force from 9th May 2011. Sergii cites this as a victory for the public and Ukrainian journalists, but states that this is just the first step in the drive to obtain access to information.
Sergii plans to publicize the new law as widely as possible and is particularly interested in how members of the public and journalists in the UK obtain information about the income and expenses of MPs, judges, ministers and other figures.