Shahla Ismayilova
Chairwoman of the Women's Association for Rational Development (WARD), Advisor to the Global Fund for Women (GWF), and Founder of the first Maternity School in Azerbaijan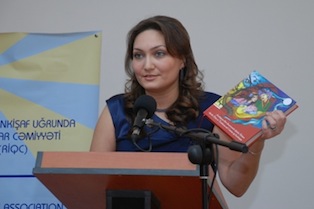 The primary focus of Shahla's current work is women's rights and gender equality. She is the author and director of numerous programs and projects related to women's development and empowerment.
She is Chairwoman of the Women's Association for Rational Development (WARD); Advisor to the Global Fund for Women (GFW); and Lobbying Advisor to the Human Rights House Foundation (HRHF) Baku office. Shahla is the Coordinator of several national networks, such as Power Ladies and the Women's Solidarity Network.
Shahla is the Founder of the first Maternity School in Azerbaijan – a pioneering initiative in the country, which has growing interest and positive public feedback in Azerbaijan.
At the moment Shahla's specific focus is the capacity-building of women's organizations in Azerbaijan. Among a number of initiatives she undertakes in this area is the creation of the Gender Expert Group– the first capacity-building infrastructure in Azerbaijan with gender as the main focus.