Shalva Gogidze
Local Government Programme Coordinator at NDI, Georgia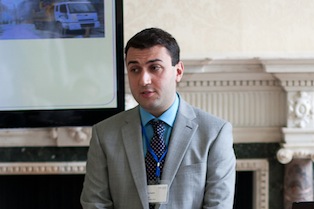 Shalva (Lasha) Gogidze is the Local Government Programme Coordinator for NDI Georgia. At the time of his Fellowship Lasha was a Senior Analyst and Project Coordinator at Transparency International Georgia (TI Georgia). He joined TI Georgia in August 2010 and through his independent research and communication skills contributed significantly to the successful implementation of the Making Aid Work for Georgia project, which aimed to monitor post-2008 war housing assistance for Internally Displaced Persons. He currently works on a wide range of projects promoting transparency, accountability and public participation in the Georgian public sector.
Before joining TI Georgia, Lasha worked for both governmental and non-governmental agencies in Georgia, including the Parliament, US National Democratic Institute for International Affairs, Save the Children Federation, and European Center for Minority Issues.
Lasha completed his Bachelor in International Law at Tbilisi State University and also two Masters Programs in International Relations and European Union Affairs at Central European University in Budapest and College of Europe in Bruges, respectively. In addition to being a John Smith Fellows Lasha is is a Fellow of Georgia's Development and Reforms Foundation (2007), the Black Sea Young Reformers (2013-2014). He has published a number of academic and policy papers on the issues of European integration, energy and security, aid accountability, open governance and parliamentary ethics.
Lasha's Action Plan
Lasha believes that one of the major issues in Georgia is a lack of access to information of new government policies and limited opportunities for public involvement in the development of those policies. Poor communication or intentional withholding of important public data may lead to the citizens finding it difficult to benefit from many state-run projects. Lasha would like to establish well-functioning public communications departments in all Georgian state agencies, using unified communication standards, and harnessing computer software and social media to increase citizens' engagement in policy-making processes.
Lasha's continuous efforts to raise the profile of open data and public participation issues in Georgia have been reflected in a number of well received articles and reports on the topic as well as regular constructive engagement with all relevant stakeholders. Upon returning to Georgia, Lasha was selected as a national researcher for Georgia for the OGP's Independent Reporting Mechanism. In 2014 he published an assessment report on how the Georgian government is implementing the OGP Action Plan. The report was covered by local media and the government have incorporated Lasha's recommendations within their 2014-15 OPG Action Plan. In 2014 Lasha also participated in a Train the Trainers programme held bydbbakademie (Bonn) and is now qualified to hold training on public ethics – a duty he is performing in his new role at NDI.