Svitlana Zalishchuk, 2008 Fellow
Executive Director of Centre UA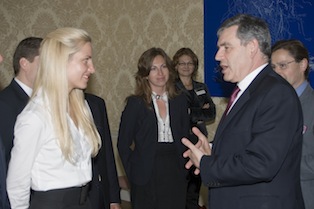 Svitlana is a journalist, activist and initiator of number of influential civic campaigns in Ukraine. She is currently working as Executive Director of Centre UA, a Kiev-based NGO.
In addition, Svitlana is a founder of the CHESNO (Fair) movement that monitors candidates and acting members of the parliament against integrity criteria using communication technologies; coordinator of the New Citizen civic platform that unites more than 50 NGOs promoting democratic reforms in Ukraine; and co-initiator of the influential journalist movement Stop Sencorship! that unites dozens of prominent Ukrainian journalists fighting for freedom of speech.
Previously Svitlana was an anchor of live political TV-show "From the other side" and international reporter at the 5th TV-Channel – the only media that broadcasted Orange Revolution in 2004. Also she has an experience working at high positions in the Government and Administration of the President in 2005-2006. Svitlana graduated from the Institute of Journalism at the Taras Shevchenko National University of Kyiv.
At the time of the 2008 Fellowship Programme, Svitlana was Secretary of the National Commission for Freedom of Speech and Development of Information (Secretariat of the President of Ukraine).