Taras Berezovets, 2011 Fellow
Owner of Berta Communications and Director of Polittech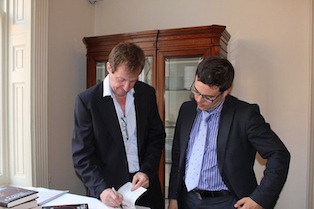 Taras is owner of Berta Communications, a strategic consulting company, and Director of Polittech, a leading Ukrainian think-tank.
Over the last fifteen years, Taras has been involved in more than 20 electoral campaigns in Ukraine as campaign manager, including presidentials in 1994, 1999, 2004 and 2010 and parliamentary campaigns in 1998, 2002, 2006 and 2007.
In 1997-98 he served as press secretary to the permanent representative of the President of Ukraine to the Verkhovna Rada (Parliament) of Ukraine. Following this, he worked as senior consultant to the National Institute for Ukrainian and Russian Relations under the auspices of the National Security and Defense Council of Ukraine. From 1999 to 2002 and again from 2004 until mid-2005 Taras was chief consultant and later the state expert in the foreign security department of the National Security and Defense Council of Ukraine. From 2000 to 2002 he worked as a member to the Interdepartmental group of the National Security Council's secretaries of Ukraine, Russia, Poland and Belorussia.
In April 2005 he moved to the private consulting company Martin group PLC where until 2007 he held the position of political consulting department director. Since 2007 Taras has consulted the political bloc BYUT of the ex-Prime Minister of Ukraine Yulia Tymoshenko. He was responsible for PR during Tymoshenko's presidential campaign in 2009-10.
He is the author of numerous publications on political advertising and consulting, and maintains blogs on Ukrainskapravda and Korrespondent (see links on the right). Taras graduated from the Institute of Journalism of Taras Shevchenko National University in Kyiv in 1997. In 2003 he graduated from the Royal College of Defence Studies (London, UK) and in 2004 received an MA in International Studies from King's College London.
Taras hopes to use his time in the UK to learn about how to engage young educated people in the political and electoral process and how to involve them in combating election fraud. He also wants to establish a legal network to provide support to businesses and civil rights activists experiencing illegal pressure from the state.