Teimuraz Khomeriki
National Program Officer, Swiss Cooperation Office in South Caucasus; and Founder and Member of the Board of NGO Institute of Values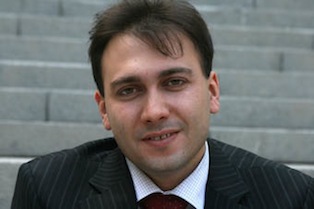 Teimuraz is the National Program Officer at the Swiss Cooperation Office in South Caucasus. He is responsible for support and guiding Swiss cooperation interventions aimed at Economic Development and employment (EDE) in Georgia Armenia and Azerbaijan. Before this he worked the the Director of the Regional Development and Local Government Policy Center and as a freelance consultant on issues of regional development.

Temo was previously an Expert on Financial and Economic Issues at the Centre for Effective Governance System and Territorial Arrangement Reform (CEGSTAR). CEGSTAR assists in the planning and implementation of the Georgian government's reforms on local democracy and decentralization. Temo provided financial and economic advice on local self-governance and decentralisation reforms.
He is a Founder and Member of the Board of the NGO 'Institute of Values' and a Board Member of the CABIR alumni council. CABIR is a swiss funded capcity development program for civil servants.
At the time of the 2003 Fellowship Programme he was a Leading Specialist of the Parliamentary Budget Office Division.