Tinatin Goletiani
EU Legal Expert and Co-Founder of Georgia's Reforms Associates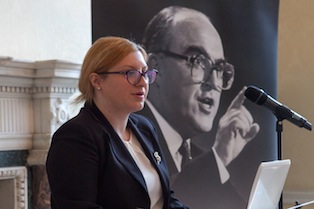 Tinatin (Tina) is a co-founder of GRASS (Georgia´s Reform Associates). GRASS is a non-partisan, non-governmental policy watchdog and think tank, which conducts research and public policy analysis, and provides advice and project management in the fields of public policy and public administration reform.
Prior to her role in GRASS, Tina held positions as Deputy Auditor General of the State Audit Office of Georgia, Director of the International Law Department at the Ministry of Foreign Affairs and Head of the Department of Justice in the Office of Public Defender (Ombudsman) of Georgia. In each of these roles Tina was closely involved in working with the United Nations Human Rights Council, drafting Georgia´s Universal Periodic Review as mandated by the General Assembly Resolution 60/251. In 2011 Tina presented this report to the Human Rights Council in Geneva and has since been working in collaboration with other lawyers to design a mechanism specific to Georgia by which the recommendations of the Council may be implemented.
Tinna's 2013 action plan aimed to promote equality by enhancing the protection of rights of persons with disabilities through promoting the ratification of the UN Convention on the Rights of Persons with Disabilities. Tinna's action plan has already seen great success as on 26th December 2013 the Parliament of Georgia ratified the UN Convention on the Rights of Persons with Disabilities and its Optional Protocol. This step has been a huge breakthrough for Georgian civil society, with NGOs and civil activists continuously lobbying for the ratification of the Convention and the Optional Protocol despite many obstacles. In 2014 Tinna organised a summer school with the Free University of Georgia to raise awareness among students of the UN Convention. Subsequently, several universities, including the Free University, have incorporated the topic of rights of persons with disabilities in their curricula. The JS Fellowship prepared Tinna with the capacity and advice she needed to lobby the Government and other relevant stakeholders effectively through GRASS and how best to present the importance of the implementation of the Convention on a domestic level.