Vadim Georgyenko, 2006 Fellow
CEO, Civil Society app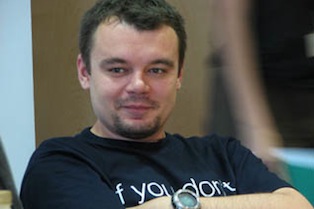 Vadim is CEO of the Civil Society app, a powerful tool for co-governance by citizens, based on their participation in decision-making, social investment and social entrepreneurship (web-version is available at
https://gurtom.mobi
). You can read Vadim's story of how he created the Civil Society app
here
.
He was previously
Chairperson of the Board of Trustees in the International Foundation for Mutual Aid and Social Investment in Ukraine.
Vadim received an award in 2007 from the Council of Europe for his implementation of a municipal youth policy model, involving thousands of young people. From 2008-2010 Vadim was an Adviser to the Ukrainian Minister responsible for youth. He is the co-author of an innovative program of the Academy of Governance (ORIPA NAPA) designed to educate Ukrainian officials in youth policy (2009). Vadim has conducted extensive research on youth policy. He has published his research (conducted over a ten year period) on the theory and practice of youth policy.
His current interests include designing Cloud-based techologies for the development of civil societies (locally and globally), democracy and business solutions.