Viktoriia Yershova, 2018 Fellow
Senior Policy Fellow, Office of the Vice Prime Minister for European and Euro-Atlantic Integration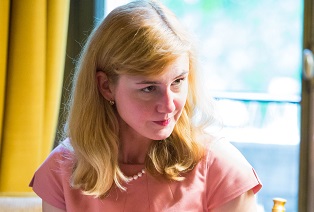 Viktoriia is a Senior Sectoral Policy Fellow at the Office of the Vice Prime Minister for European and Euro-Atlantic Integration of Ukraine.
She is an expert in EU and International Law and has a Ph.D. in Law from Kyiv National Economic University (Ukraine), where she is now an Associate Professor. She has studied at Northumbria University (UK), has been a visiting scholar at Vienna University of Economics and Business (Austria) and Harvard Kennedy School (USA). Her academic research focuses on EU Law, EU Internal Market Law, International Economic Law.
Her action plan is to develop best practice for the interaction between government and parliament in the process of passing and implementing new legislation and to look at how laws are implemented by local authorities.