Vitalie Iovita
Board Member and Project Coordinator for the NGO 'Center for Assistance to Public Authorities'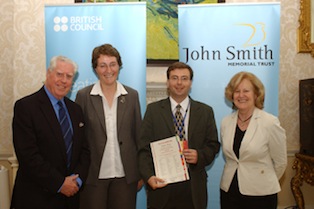 Vitalie is Board Member and Project Coordinator at the NGO "Centre for Assistance to Public Authorities".Vitalie is working to develop this NGO and participates in the coordination of a number of projects on financial management and fiscal decentralisation. The NGO works in a partnership with more than 400 local governments in Moldova, donors and other state organizations.
He was previously Risk Manager at "IM si Compania Consulting Group", one of the largest leasing companies in Moldova. Prior to this, Vitalie worked as a Policy Advisor on Fiscal Decentralization/Local Public Finance Policy for the Ministry of Local Public Administration (MLPA), UNDP, responsible for advising MLPA staff on the initiation of decentralisation activities in Moldova.
At the time of the 2004 Fellowship Programme he was a Programme Specialist within the Fiscal Decentralisation Team for the Local Government Reform Project (USAID). He provided training and technical assistance to over 110 local authorities across the country and promoted best practice and transparency in all areas of local government finance.