Vitaliy Kuchynsky, 2001 Fellow
Independent Management Consultant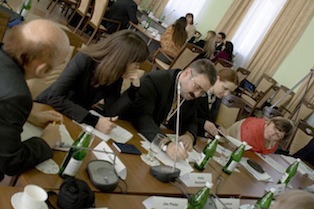 Vitaliy is an independent management consultant.
He is Strategic Advisor to the Programme Administration Office of Twinning for TAIEX and SIGMA in Ukraine. As an expert of the EU-Tacis Project 'Implementation of Twinning Operations in Ukraine', he works to build the capacity of Ukraine to make the best use of EU assistance, in particular the Twinning tool. Twinning is an institutional building tool and a new form of direct technical co-operation between public bodies of EU Member States and Ukraine that will provide for a transfer of knowledge and good practices between public administrations of EU Member States and their Ukrainian counterparts. Twinning has contributed to the development of a professional network of civil servants between EU Member States and public administrations of countries where Twinning projects were implemented. Vitaliy previously worked as the Programme Manager for the Democratising Ukraine Small Grant Programme.
At the time of the 2001 Fellowship Programme Vitaliy worked for the Kharkiv Group for Human Rights Protection, a non-profit human rights organisation.