Vitaliy Syzov, 2018 Fellow
Chairperson of the Donetsk Institute of Information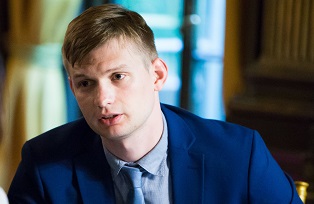 Vitaliy is Chairperson of the Donetsk Institute of Information, an NGO working in the media field in Ukraine.
He worked for nine years a journalist in regional and national media and graduated from the Political Science Department, History Faculty, at Donetsk National University in 2012. He is now developing an analytical centre at the organisation he chairs.
The overall goal of Vitaliy's action plan is the reintegration of the uncontrolled areas of the Donbass region and the strengthening of stability and democracy in eastern Ukraine – by working to reduce hate speech in the media and political sphere.