Volodymyr Kuzminskyi, 2007 Fellow
Team Leader for the Technical Assistance to Sector Policy Support Programme in the Social Protection Sector - Service Delivery Component, Tajikistan - an EU Project led by Oxford Policy Management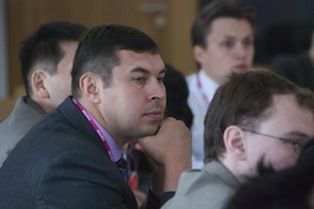 In December 2010, Volodymyr was appointed as Team Leader to the Technical Assistance to Sector Policy Support Programme in the Social Protection Sector – Service Delivery Component, Tajikistan. This is an EU funded project led by Oxford Policy Management (OPM).
The purpose of the project is to support the Ministry of Labour and Social Protection of the Population (MLSPP) in the development of standards, methodologies, and practices of social care for people with disabilities and other vulnerable categories of the population in residential institutions, day care centres and for home visits.
Volodymyr holds a PhD in Planning, Management and Regulation of Economy as well as an MA in the Management of Organizations and has been a pivotal player at the forefront of reforms in children's policy and social services in Ukraine over the past 8 years. For a number of years, Volodymyr was Country Director of EveryChild Ukraine. EveryChild is an international development charity working to protect the most vulnerable and excluded children across the world. Volodymyr managed the activities of the Kyiv office and was responsible for the operational and strategic direction of EveryChild's programme in Ukraine.
Volodymyr has extensive experience providing technical assistance and consultancy to the highest levels of Government, most recently in Russia, Uzbekistan, Kyrgyzstan and Tajikistan on child welfare reform issues. His experience includes director roles in the following projects delivering complex social reform projects encompassing legal, financial, service delivery and standards reform: Developing Integrated Social Services for Vulnerable Children and Families (TACIS, Ukraine), Capacity Building in Providing Training for Statutory Social Service Providers (TACIS, Ukraine), Reform of Childcare Systems – Demonstration in Lviv Oblast (Ukraine), Family Based Forms of Care: Development of Methodology, Legislation and Public Awareness (Ukraine).
He is the author of more than 20 publications addressing contemporary issues in social and economic fields. One of his recent publications (as co-author) is "Integrated Social Services: Theory, Practice, Innovations" which was approved by the Ministry of Education as a manual for students.
Volodymyr is a founding member of the Kyiv branch of the political party 'Protection'.