Yuliya Zelvenska, 2008 Fellow
Project Officer for Eastern Europe at the European Council on Refugees and Exiles (ECRE)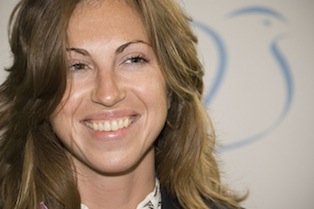 Yuliya works for the European Council on Refugees and Exiles (ECRE), a pan-European network of refugee-assisting NGOs that promotes a humane European asylum policy. ECRE promotes the protection and integration of asylum-seekers and refugees based on values of human dignity, human rights, and a strong solidarity ethic. It works to encourage new thinking on refugees and asylum, by conducting pro-active policy work and research.
Yuliya is the only ECRE representative in Ukraine, and supports refugee-assisting NGOs and refugee communities in Ukraine, Belarus, Moldova and Russia. The support she offers includes fundraising assistance, information on legislative changes, training in advocacy and media skills, and a programme of seminars and conferences. A large part of her work involves developing positive contacts with government representatives (migration service officials, border guards, authorities and judges) which requires significant skills of negotiation and diplomacy. She is also involved in writing country reports, statements and other policy papers.
Largely Yuliya's work seeks to help NGOs build partnerships with other NGOs abroad, providing an opportunity to share knowledge, and strengthen staff awareness. It aims to develop the rule of law and a strong civil society, thereby leading to greater protection of asylum and refugee rights.