Supporting good governance through legal education in Russia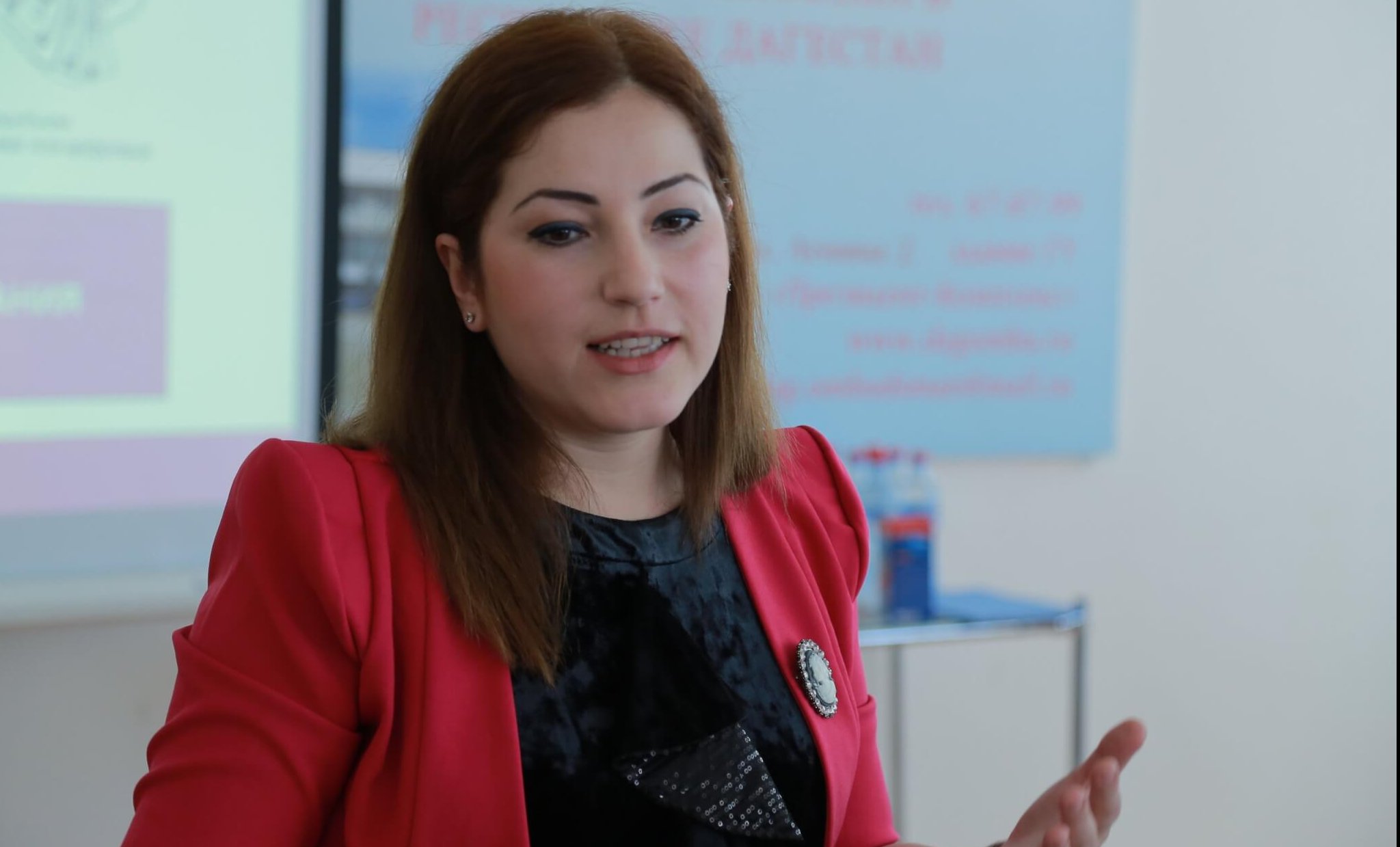 The practical manifestation of Dina Biygishieva's unshakeable belief in the power of good governance and the rule of law can be seen through her work as a lawyer in Russia where her guiding principle has always been helping her fellow citizens better understand the law and the rights it affords them.
Dina's work has taken different forms during her career – from running legal clinics at university to fronting legal-based television programmes to her current job with the Vladimir Potanin Foundation supporting nongovernmental organisations (NGOs) in Russia.
Although based in Moscow for the last few years, Dina is from the Republic of Dagestan, Russia's most ethnically diverse province situated in the North Caucasus on the shores of the Caspian Sea.  She keeps strong links with her home region and since 2016 has served as the deputy of the Civil Scrutiny and Expertise Commission at the Civil Chamber of Dagestan whose mission is to encourage an active civil society and to protect the interests and needs of citizens. The Chamber serves as the platform for better dialogue between the government and public institutions where Dina's primary role is to provide capacity building to nongovernmental organizations functioning in the region.
From her earliest days as a student of the Law Department of Dagestan State University, Dina had always directed her legal knowledge towards serving the public good by establishing free legal aid projects, running legal education programmes and courses and volunteering at the university's legal clinic.  She continued with this work after graduating by co-founding the Dagestan Guild of Lawyers, an NGO which specialises in providing legal aid for the community, raising public awareness of human rights issues and promoting better understanding in general of the law amongst citizens.
Dina's career then took an interesting turn in 2008 when she took a job as the Head of the Legal Department of the state TV and radio broadcasting company, Dagestan. Within a short period of time she found herself with an additional job – in front of the camera.  Having her own television programme on issues of the law was a fantastic opportunity to reach a much wider audience with her passion for easily digestible legal education. For 10 years, and always in addition to her legal department day job at Dagestan, Dina presented The Legal Field which covered a wide range of legal issues – from women's rights and holding judges to account to taxes for the self-employed or new regulations for notaries – as well as tackling issues of freedom of speech and their legal interpretation. 
This was important work for which Dina was well recognised. She has received multiple awards for her work on The Legal Field from various entities including the Ministry of Justice, the Election Commission of Dagestan and the Russian legal information centre, Garant.  And over the years, Dina went deeper with issues covered on her programme, winning further awards for her work.  Notably, in 2013 she won the 'Golden Gong' at the All-Russia Journalists Awards for Programme of the Year on Social Issues for her story on the law banning foreign adoption in Russia  as well as looking at the problems people face with adoption in Russia. Five years later, she won another All-Russia Journalists Award, this time the 'Truth and Justice' award for the episode revealing corruption and educational mismanagement in Dagestan secondary schools.
 It was during her time at Dagestan that Dina successfully applied to the John Smith Trust (JST) to spend a month in the UK on the Fellowship Programme.  By 2013 she had become increasingly concerned about the serious lack of communication and transparency between the government of Dagestan and its people which she saw as breaching the region's constitutional guarantees of the right to information and the right to democracy.  Efforts had been made to address the issue but progress had stalled due to the lack of proper awareness of the problem as well as lack of capacity and government resources.
By now counting herself as a lawyer and a journalist, and of the firm belief that greater democratic freedom cannot be achieved without a respect for a free media from both the government and its citizens, Dina's Action Plan for her JST Fellowship Programme focused on finding a way to use existing legal channels in Russia to promote increased cooperation and communication between the government and the media.  Her meetings in the UK were key to this and included visits to BBC Glasgow, the Scottish Government Communications Directorate, BBC headquarters in London, Channel 4 and the Ministry of Justice's Freedom of Information Policy Department.
On her return home, Dina turned her Action Plan into real action by drafting a comprehensive guidance paper based on the existing legal provisions of the Republic of Dagestan which was supported by the Ministry of Information and created a channel through which both government and the media could cooperate and communicate. In her capacity as Dagestan's legal head, Dina also used her UK learnings to organise trainings for lawyers and human rights activists on access to information according to Russian legislation and best practice as well as on proper communication and cooperation with the media. 
Dina continued to work in the media for some years following her John Smith Trust experience, including raising awareness of domestic abuse and the lack of legal safeguards with a documentary film, inspired by a press tour to Washington DC where she learned about the work of NGOs in women's empowerment.  However, she has since moved fully into the NGO sphere, concentrating her efforts on supporting their work in developing society and improving communities. 
Dina credits her time on the JST Fellowship Programme as giving her a better understanding of the value of NGOs in advocating issues of high social importance, similar to the role of the media.  She doesn't rule out returning to her media work in the future, saying it has played a tremendous role in her life in being able to communicate the law better but that the non governmental sector is the best place for her now to see tangible results.  'There is nothing like being able to challenge the Supreme Court on an issue that later turns into legal guidance which no judge can ignore'.
In looking back on her John Smith Trust experience, Dina says, 'I have been truly inspired in my work by my John Smith Trust experience.  It taught me not to fear being challenged and helped empower me with the understanding of what you can achieve with the proper goals and right efforts'.
MARCH 2021