Advancing gender equality, climate action and social justice in Ukraine and beyond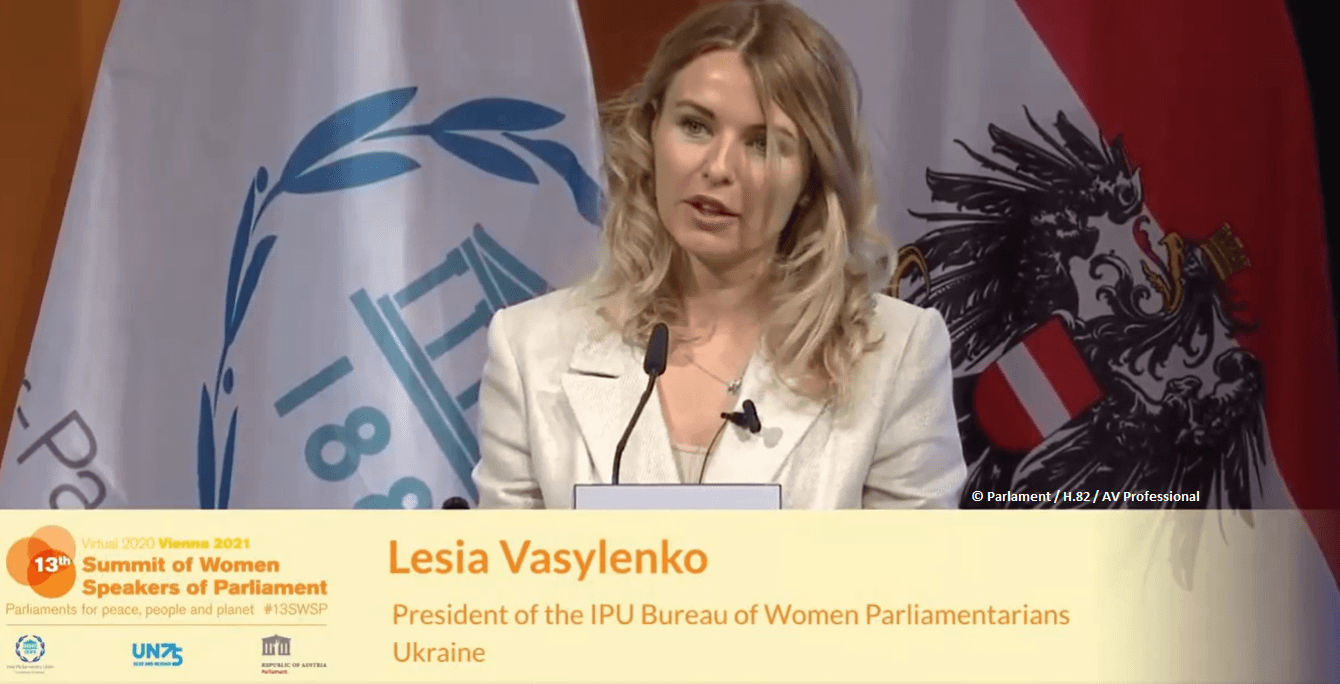 Photo taken from 13th Summit of Women Speakers of Parliament video, 6th September 2021
JST Fellow Lesia Vasylenko (Ukraine, 2017) has been contributing to the 13th Summit of Women Speakers of Parliament, convened by the Inter-Parliamentary Union (IPU) in Vienna. Lesia and her fellow parliamentarians from across the globe have been exchanging ideas and experiences that are of interest to their national and international agendas: from confronting the pandemic and preserving achievements in a gender-responsive recovery to paying tribute to women from all walks of life who have been instrumental in confronting the COVID-19 pandemic. The summit also identified ways and means of preserving and consolidating women's achievements and furthering progress in a gender-responsive recovery agenda, leaving no woman and no girl behind.
Lesia was elected to the Ukrainian Parliament, the Verkhovna Rada, in 2019 and has been the President of the Bureau of Women Parliamentarians of the IPU since early 2021. With her background in International Environmental Law, she has also been a vocal advocate for climate action in Parliament. Before her election, she was already well known for her work exposing environmental law violations in the construction and mining industries and the fight against the pollution levels around her home city. As the Chair of Ukraine's Parliamentary Committee on Climate Change, Lesia now leads efforts to advocate for more robust government commitments to decarbonisation and an equal stance to economic and environmental development. Lesia will be coming together with fellow parliamentarians and leaders from across the world to accelerate action towards the goals of the Paris Agreement during November's United Nations Climate Change Conference COP26 in Glasgow.
When Lesia took part in the John Smith Trust Fellowship Programme back in 2017, her career had taken an unexpected turn as a result of the war in Eastern Ukraine. Lesia was volunteering at a military hospital and became acutely aware of the need to improve the welfare and rights of veterans. Lesia ended up founding the NGO Legal Hundred, which soon developed into a platform for over 200 lawyers providing legal aid and support to veterans' organisations, dependents and volunteers in 12 regions of Ukraine.
Through her work with veterans, Lesia gained insights into the multiple social justice challenges that Ukraine's most vulnerable citizens face, as well as further motivation and ideas for how to address them. Lesia wanted the Legal Hundred NGO to become a catalyst for change in approaches to veteran support and, at the same time, contribute to strengthening communities and promoting public participation and a more inclusive society. Lesia's JST Action Plan was therefore focused on delivering changes in the government's policy by developing a draft veteran strategy and a National Action Plan. She envisaged Ukraine's support to veterans changing from Soviet-style benefit provision, which she saw as ineffective and a drain on the national budget, to a supportive, multi-sector approach to military and non-military integration.
As part of Lesia's individual Action Plan meetings with the JST, she spent time with the UK's leading armed forces and veterans' charities, the British Legion and Help for Heroes. She gained valuable insights into the role and functions of such organisations in the UK and, crucially, how to run effective advocacy campaigns to change the way that veterans and other vulnerable groups are represented and supported in Ukraine. Meetings with Forces in Mind Trust, Walking with The Wounded and The Soldiers' Charity further informed Lesia's ideas about how to help veterans in her home country. Lesia says that her meetings "contributed to gaining access to these best practices and to the people behind their creation and implementation within the UK" and "through the JST Fellowship, I gained an alternative and wider perspective on the issues of veteran integration and [it] helped me put the conflict in the East of Ukraine in a broader context, identifying, in particular, regional attitudes towards it and UK perceptions."
The organisation was instrumental in the establishment of the Ministry of Veteran Affairs in November 2018 – the UK's equivalent of the Office for Veterans' Affairs – and continues to be the go-to NGO for analysis of veterans' welfare. While she has now stepped back from the day-to-day activities of the Legal Hundred due to her other commitments, Lesia sees the organisation's success and continued impact as one of her greatest achievements. She says she is proud that, "the Legal Hundred has a sustainable structure and is run by a completely autonomous team. It is an influential NGO and works successfully with parliament. In fact, whenever there is a vote related to veterans, all MPs turn to the Legal Hundred's analysis."
Lesia maintains her connections with her UK, not least by co-chairing the UK-Ukraine Parliamentary Friendship Group. Upon meeting her after her election, one UK official noted "if Ukraine could have elected 450 of her, the country would be sorted in three weeks!" Although there is only one of her, she is an asset to her country's development and the JST network is proud to call her one of our fellows.
September 2021