Azerbaijan prison reforms begin to tackle children's rights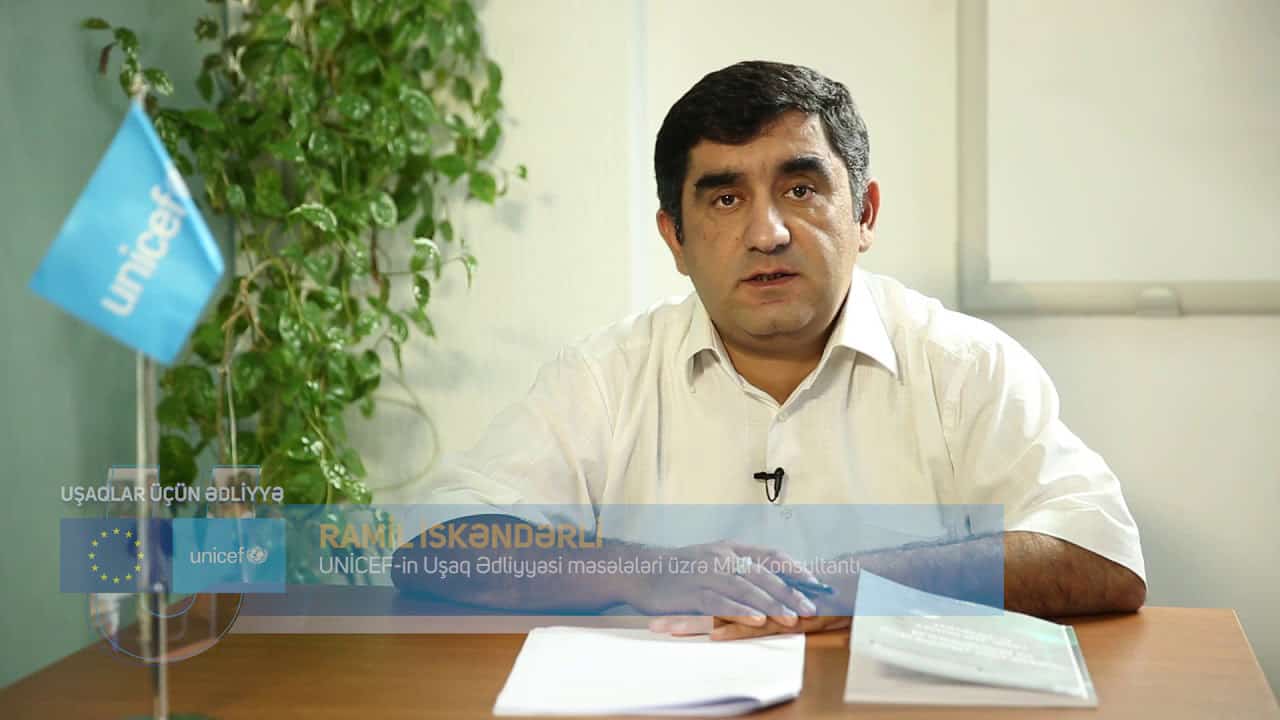 Until recently, young offenders were treated in the same way as adults by Azerbaijan's punitive judicial system. Legal reforms are gradually creating a more progressive system for offenders of all ages.
Based on the punishment rather than the rehabilitation of offenders, Azerbaijan's criminal justice system is a legacy of the Soviet era. It was customary for children to receive long prison sentences for crimes such as petty theft because they were tried under the adult system.
"The maximum prison sentence for children is ten years," says Ramil Iskandarli, a human rights lawyer based in Baku. "I have seen children in prison for nine years for a street crime, such as robbery."
Social and psychological issues
According to Ramil, root causes of crime among young people in Azerbaijan include poverty and psychosocial issues. "The main reason is their living conditions," says Ramil. "It might also be that the children come from a family without one or both parents. If we are talking about street children, they may have come under the influence of adults in criminal groups."
A lack of support for social reintegration makes it even more difficult for young offenders to rebuild their lives. Ramil remembers visiting one teenage boy, aged around 17, in detention: "He said he'd be better staying in the criminal system, because he has some perspective in that area, rather than going back to society. We need to strengthen social rehabilitation and reintegration, rather than concentrating on a legal punishment."
Motivated to study human rights
Ramil, a John Smith Trust Fellow since 2005, has dedicated his career to legal reforms and civil society development in Azerbaijan. He is the founder and chairman of Legal Analysis and Research, a non-profit which promotes legal reform and raises awareness of human rights issues. He has also worked as a consultant for UNICEF, the Council of Europe and other international organisations.
Ramil was motivated to study human rights law by his experiences following the collapse of the Soviet Union. "In January 1990 Soviet tanks entered Baku and killed many people," he says. "For the first time in my life, I saw massive violations of human rights. Two years later I became a student. It motivated me to learn more deeply about that area."
During his John Smith Trust fellowship programme, Ramil had a series of meetings with UK experts in justice and human rights, to learn about how the UK system works. "I learned a lot from Doughty Street Chambers [specialist barristers] in London," he says. "I went to Edinburgh prison and learned from the Scottish penitentiary system how they deal with crime and offenders. I spent time at the Human Rights Centre in Glasgow. I even took part in a demonstration."
Foundations for reform
Ramil and Kamran Bayramov, another Azerbaijani Fellow, secured an agreement from David Croft, the governor of Edinburgh Prison, to visit Baku, accompanied by Baroness Stern, the former secretary general of Penal Reform International. The visit took place in 2006, during which Ramil and Kamran arranged for the UK experts to visit prisons in Azerbaijan and meet with non-profits and the Ministry for Justice.
Ramil says these meetings laid the foundations for an ongoing campaign to reform the penitentiary system. "The biggest challenge in Azerbaijan is still the transformation of the punishment oriented penal system into the system where rehabilitation of inmates should be the priority," he explains.
It is a slow process but thanks to the efforts of Ramil and reformers like him, the system is beginning to change. In 2017 Ilham Aliyev, President of Azerbaijan, signed a Presidential Decree on Humanisation of the Criminal Legislation. Soon after, he made a decree establishing the new Probation Agency, promoting non-custodial measures and the rehabilitation of offenders.
Alternatives to prison
Under this decree, some crimes were decriminalised and given the sanction of a fine rather than detention. And greater provision was made for the restriction rather than deprivation of liberty, with supervision to help the offender reintegrate into society.
"The presidential decree has accelerated the process of increasing the use of alternatives to prison," says Ramil. "In the penitentiary system, we also have seen an improvement of conditions for offenders. Most importantly, it was a start of the process of using social rehabilitation programmes."
In 2021, Ramil and his team from Legal Analysis and Research took part in the 14th UN Congress on Crime Prevention and Criminal Justice in Kyoto. The juvenile justice system in UN member states were among the topics discussed, with the emphasis on rehabilitation and reintegration of offenders. After the congress, Ramil's team submitted the Alternative report on Juvenile Justice in Azerbaijan to the UN Committee on the Rights of the Child.
Among the report's recommendations are the adoption of a specific law on juvenile justice and provision for a child-friendly approach by the police, prosecutors and courts. This would include more training for law enforcement bodies and the justice sector.
Child-friendly approach
During his time as a consultant with UNICEF, Ramil was involved in piloting initiatives such as a child-friendly room in the Grave Crimes Court in Baku. "Now our aim is to achieve a specialised system that is more coordinated – we need a holistic approach," he says.
"We still see deprivation of liberty used more often than alternative sanctions. But the positive side of the story is that we are changing attitudes through our active work and collaboration with the justice system. The number of juveniles in prison is decreasing. Most important is the softening of the legal system in relation to offenders, not necessarily just for juveniles but for all of them."
He adds: "It is challenging because behaviour change is very difficult in Azerbaijan. It is easier to adopt a law than it is to implement it properly. Of course, if Azerbaijan adopts international standards into its national legislation it comes from its obligations before the UN and Council of Europe. The most important and challenging thing is how to contribute to the process of practical application of those standards in Azerbaijan."
Fellows collaborate on the issue of juvenile justice
Recently, Ramil initiated a juvenile justice working group with other John Smith Trust Fellows specialising or interested in criminal justice issues, law enforcement and young people's rights. The idea of the group is to discuss protecting the human rights of youth offenders and specifically, to seek solutions for societal challenges that can help prevent young people's criminalisation.
During the first meeting Fellows discussed the concept of 'justice for children/justice for all' and the need for many countries to develop more child-sensitive approaches for victims and perpetrators of crime, such as Georgia's Code on The Rights of Children, which was adopted in 2019.
Ramil added: "It's so important that we have a multi-sector approach to tackle the root causes of juvenile crime. This means including social services, education, civil society, police, courts, housing and healthcare. We need to use an individual, case-by-case approach."
Youth justice strategy
The next session due to take place this spring, will focus on Scotland's recently reviewed Youth Justice Strategy. Donna McEwan, practice development advisor, from The Children and Young People's Centre for Justice in Scotland, will be a guest at the working group.
Donna will talk about how to achieve the best outcomes for children and young people – including how to meaningfully support them across all levels of youth justice.
Fellows will also discuss The Scotland Promise – a new initiative to drive change across the 'care system' to transform the experiences and outcomes of children, young people and families.
Ramil said: "We're looking forward to the opportunity to learn more about the British approach to children and young people in conflict with the law, including the frameworks in place to respect and protect their rights."
Find out more about our fellowship programmes