Championing employment for persons with disability in Turkmenistan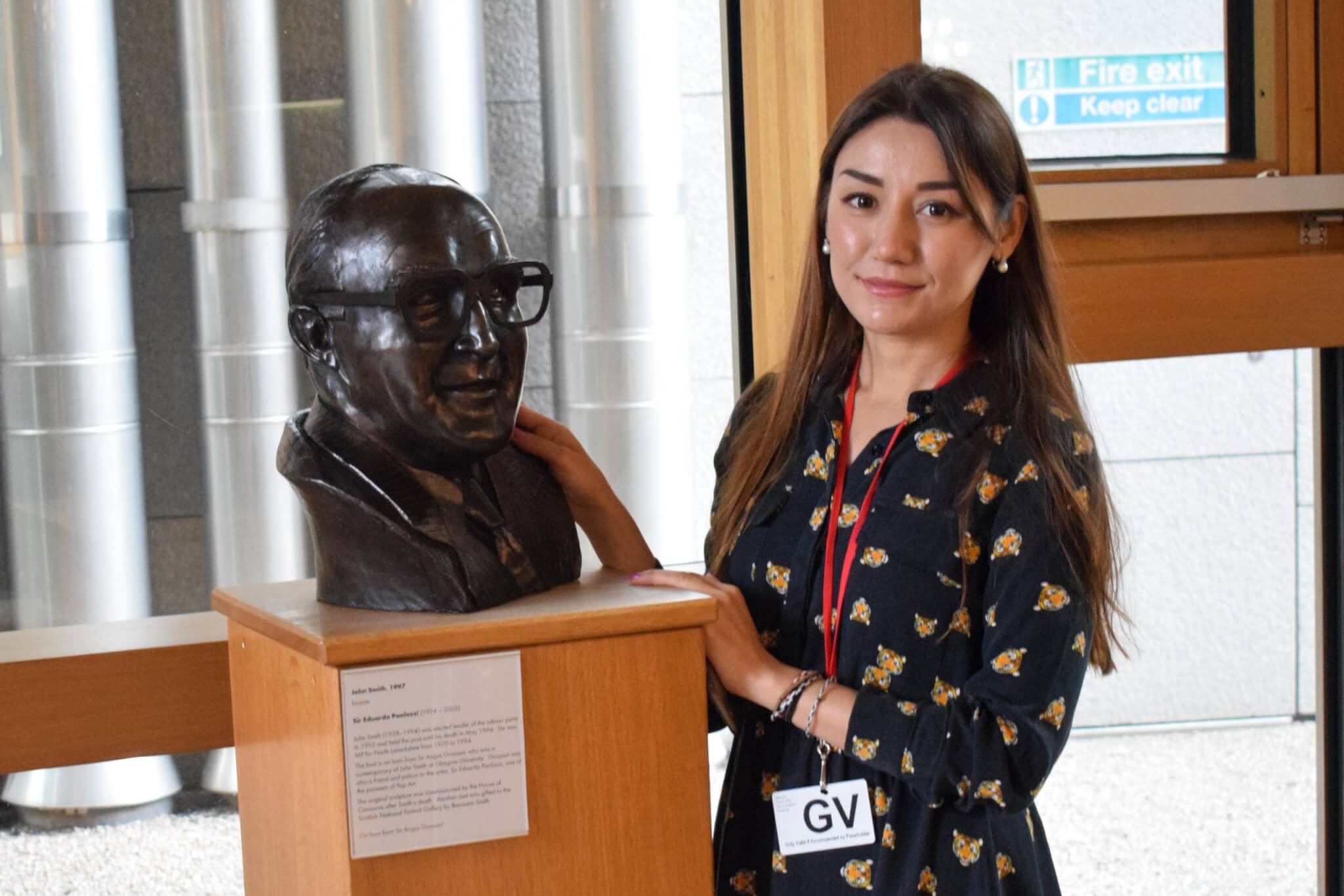 (PHOTO: Kumush Atayeva with the bust of John Smith in the Scottish Parliament)
Kumush Atayeva is passionate about improving access to employment for people with disabilities and aiding their inclusion in the labour market.  She is making a significant difference in her home country of Turkmenistan where those living with disabilities have historically faced great challenges – not only segregated education but also widespread social stigma, thus making employment difficult on several levels.
Kumush's commitment to see those with disabilities also able to enjoy the financial and personal satisfaction of employment stems from seeing the first hand struggles of a close family member.  Her professional background is in Human Resources (HR), recruitment and selection and this, combined with her personal experience, has driven her to champion better employment possibilities for those with disabilities.  She tackles this in her day job as Diversity and Inclusion Officer at Bouygues Turkemen, a branch of a well established construction company in Turkmenistan, and she is also setting up her own social enterprise to train those with visual disabilities to increase their employment opportunities.
Kumush's drive has been greatly enhanced by learning experiences she has had in the UK. In 2016, she won a Chevening Scholarship and spent a year at the University of Greenwich studying International Human Resource Management and the adaptation of HR practices, management tools and approaches towards disabled employees.  She then had the opportunity to return to the UK for a month in 2017 on the John Smith Trust Fellowship Programme. This time she was very keen to focus on two specific areas – how to develop HR practice and training courses for organisations related to disability from an HR perspective and how to improve access for employment for disabled people from the perspective of the education system.
On her John Smith Fellowship Programme, Kumush met with a number of  top UK experts on disability rights such as Jim Fernley, senior consultant at Business Disability Forum.  At a government level, she met with Scottish Conservative MP, Jeremy Balfour, the only member of the Scottish Parliament who openly defines themselves as physically disabled. And Kumush is still in touch with Sandhya Sharma, then an HR consultant at the charity 'Scope = Equality for disabled people'. Kumush says the meeting with Sandhya was one of her most memorable in terms of the practical impact she had on Kumush's plans because Sandhya helped open her eyes to the difficulty of her task ahead.  It was an important reality check – and very motivating!
Kumush also visited special schools in London in her bid to understand how they prepare children for future employment.  At one of those schools, College Park School – a local authority school in Westminster for pupils with autism and complex learning difficulties – where she met its head, Claire Shepherd, she was touched by a quote above its door which read, "The things which make me different are the things that make me ME".
It was on her return home that Kumush took up her current role of Diversity and Inclusion Officer at Bouygues Turkmen.  Her UK experience allowed her to forge ahead with certain diversity and inclusion strategic goals within her company including successfully creating employment opportunities for persons with disability, establishing a partnership with UNDP and participating in the first ever career fair for persons with disability in Turkmenistan.  She also shared inclusive workplace practices with other companies via webinars organized by the Economists' Union of Turkmenistan.
Kumush is very proud of what she has been able to achieve for her company and the disabled community and especially that she feels she has managed to shift the perception of employing persons with disability at her company.  This is a significant achievement in Turkmenistan and sets an example to other organisations.
Kumush's future plans for her own social enterprise to train persons with disability to increase their employment opportunities focus on learning English as a foreign language for the visually impaired.  In Turkmenistan, a good level of English plays a huge role in employment and most job opportunities are advertised by foreign companies.  Knowledge of a foreign language can double the chances of employment opportunities.  Kumush has been volunteering with English language tutoring at the Society of People with Visual Disabilities.  The issue is that while all their tutors are professional trainers –  like Kumush herself – none of them are specifically trained to teach people with visual disabilities. The next challenge for Kumush!
As for her John Smith Trust (JST) Fellowship Programme, Kumush remembers it fondly: "It was a life changing experience!  I was able to establish connections which aligned with my professional plans and have enabled me to make a difference in the field of employment for the disabled in Turkmenistan.  I also met a group of fantastic like-minded professionals on the JST Programme from across Central Asia who have become great friends and we are all still closely in touch.  It's been 3 years since my time in the UK but the impact of the JST Programme has been tremendous.  I will never forget the life skills we learned, the intellectual challenge of our formal debate and of course, meeting Scotland's First Minister, Nicola Sturgeon!"
JANUARY 2021