How digital technologies are transforming life in Ukraine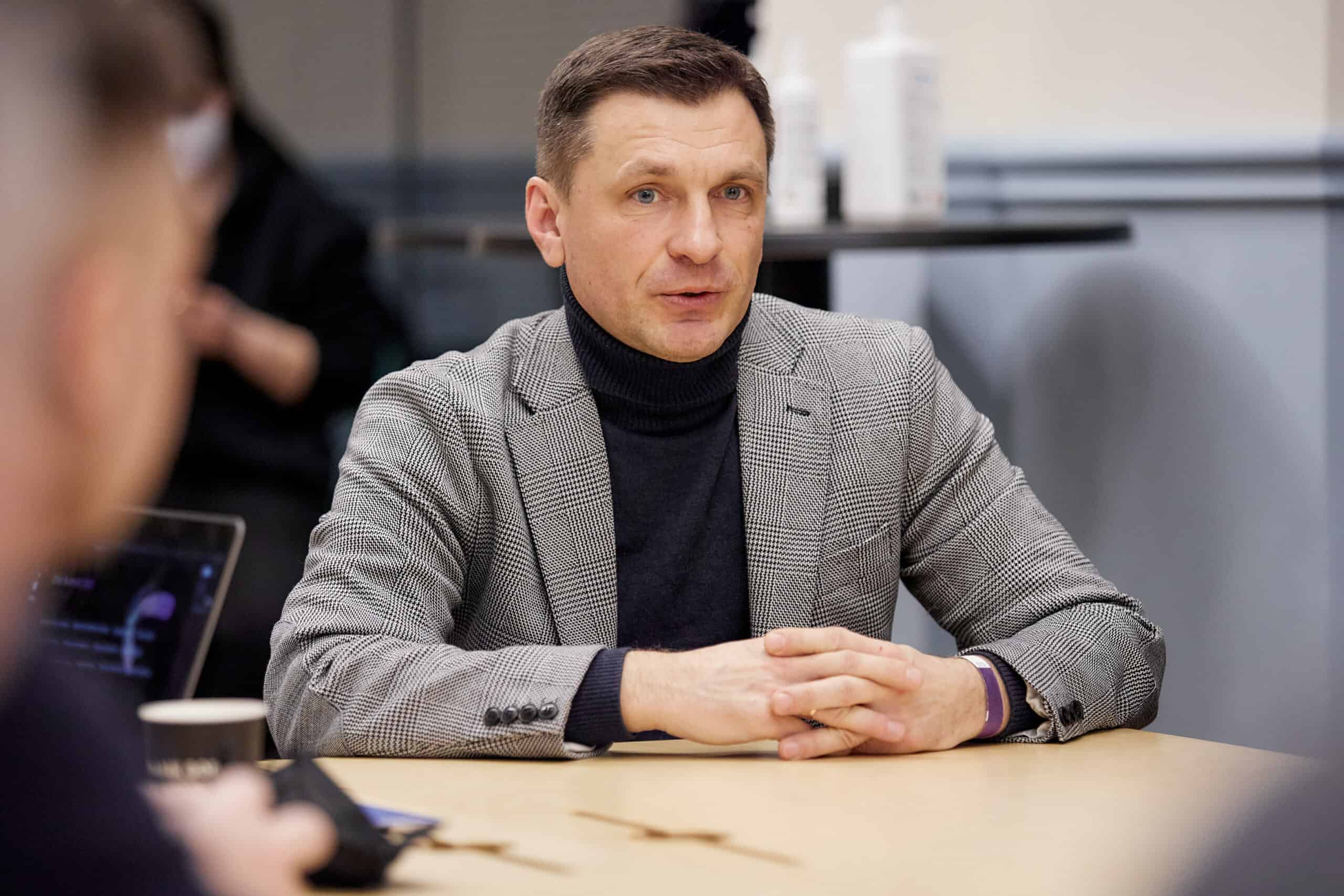 COVID-19 highlighted the importance of digital technologies in connecting people with each other and with essential public services. In Ukraine, Victor Liakh was well-placed to respond.
As the COVID-19 pandemic restricted physical contact, people around the world turned to digital technologies to sustain many aspects of their daily lives. People went online to work, learn, socialise and access vital public services, such as health and social welfare. Businesses and governments had to meet the growing demand by rapidly accelerating the digitisation of their operations.
Victor Liakh, a John Smith Trust Fellow (2008) from Ukraine, was ahead of the curve. As president of East Europe Foundation (EEF), a leading organisation in digital innovation, e-governance and open data, he was engaged in Ukraine's largest digital project when the pandemic began.
Since 2019, East Europe Foundation has been supporting Ukraine's Ministry for Digital Transformation to deliver Diia a single digital platform and access point for public services and intruments of e-democracy. The government aims to bring all administrative services for citizens and businesses online via this platform by 2024.
Tackling social exclusion
In response to the pandemic, EEF worked closely with its partners in the public and private sectors to develop projects that enable people most at risk of social exclusion to access digital technologies. One project was a series of educational videos to help people with disabilities to use new e-communication tools.
"We decided to use a Netflix-style format – an 'edutainment approach' – with five or six episodes of 10-12 minutes," says Victor. The videos covered topics such as how to keep connected with one another and how to access  various e-tools and e-services to keep engaged during the pandemic.
Working in partnership with a mobile phone operator and the Ministry, EEF supported another campaign to help older people access digital technologies. The campaign encouraged children and grandchildren to buy a mobile for their older relatives and teach them how to use it.
Digital skills training
EEF also ramped up its support for online education and skills training for children and young people during the pandemic.
"We were trying not to duplicate existing online platforms but apply them in a way that is interesting for kids," says Victor. "We supported one team which creates a special education programme using Minecraft. Through gamification, they're teaching young people skills such as cyber hygiene, internet security, communication skills and teamwork."
Empowering young people to improve their employment prospects has been another important aspect of EEF's work during the pandemic. Together with the Ministry for Digital Transformation, it has created a new platform with over 50 courses in digital skills, such as learning the basics of coding, and the platform has reached more than one million citizens so far.
Employment opportunities for young people
Helping young people improve their skills is a thread that runs throughout Victor's career. When he was in the UK for his fellowship with the John Smith Trust in 2008, he created an action plan to improve employment opportunities for marginalised young people.
Upon his return to Ukraine, Victor worked with partner organisations to start a pilot project, which involved training 40 young people. Thirty-six successfully finished the pilot and six found jobs immediately.
During his Fellowship in the UK, Victor met local and national government departments and civil society organisations. He credits one organisation – Business in the Community – with helping him develop his ideas around how the private sector can best support young people.
Advancing corporate social responsibility
"I was studying corporate social responsibility (CSR) and I had seen opportunities for business to invest their resources, skills and time to help society," he says. "At the same time, I was working with young people. And still, this is a priority for me.
"During that time in the UK, I spent several days with Business in the Community, which drives CSR forward and provides wonderful best practice and guidance for companies."
At that time, CSR was a new concept in Ukraine. According to Victor: "We have had a lot of traditions of paying into society by business. But a modern understanding of CSR, which is not just a donation to a civil society organisation, but part of the DNA of the business, was very new."
Bringing together business and young people
Victor has maintained the link between EEF and Business in the Community for more than ten years and encouraged companies in Ukraine to help young people take their first steps into employment.
"It's not about money. It's about skills, it's about time," he says. "Imagine a person who left education or school somewhere in a rural area of Ukraine, with not so many opportunities. He or she has quite a low quality of education and is competing with skilled workers for employment."
EEF encourages its partner companies to donate their time to train young people in how to write a resume and present themselves at interview, and in the digital skills essential for the workplace.
In September 2021, EEF won an Emerging Europe Award in the 'People-first Economy' category. The award recognises the organisation's work to improve the quality of life for low-income populations, including people with disabilities, older people and vulnerable young people.
Digitisation to reduce corruption
According to Victor, the rise of digital technology has far-reaching social benefits in Ukraine. Bringing administrative services online via the Diia platform, he argues, will make communication between citizens and government quicker, easier and more transparent. He hopes it will help "root out corruption" by empowering people to complete administrative tasks online without the need for intermediaries.
EEF is thriving under Victor's leadership and supports many projects that help citizens interact with the government in more open and transparent ways. One innovation is the development of chatbots for local government partners, which are proving popular to search for information.
Victor says: "Citizens can access some services in this way, sign petitions, take a poll, and vote in a participatory budget. They can mention a problem in their community and receive an official response.
A network of change-makers
There are of course ongoing challenges when it comes to breaking down the barriers that prevent unprivileged population groups from fully participating in and thriving in society.
"Perhaps, the key idea that unites all our programmes is the desire to transform Ukraine into a state that serves the people through our work," says Victor: "A state that will be efficient, open and, most importantly, comfortable to live and work in for all.
"I fully embrace the need to keep learning and seeking innovation to find better solutions to societal problems. And being part of the John Smith Trust network, a place where you can discuss cutting-edge ideas and talk to people working at a high level across many facets of business and society is invaluable."
Find out more about our fellowship programmes
.