Humanitarian mission in Ukraine: "Together we will win"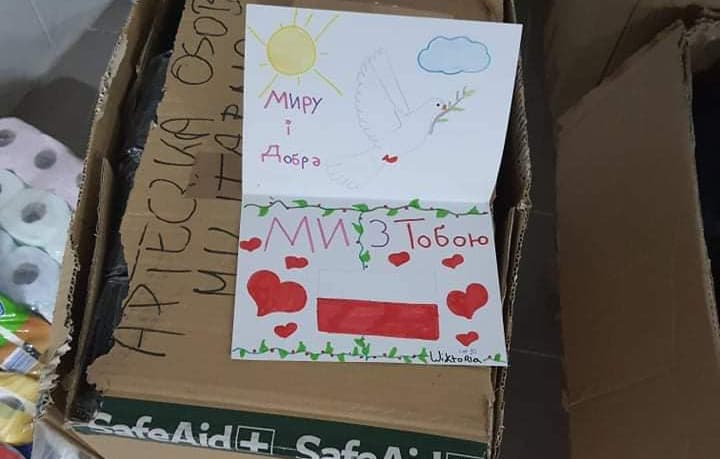 Mykhaylo Nakhod, co-founder of civic movement Svidomi, based in Western Ukraine, turned his organisation into a volunteer humanitarian mission the moment war broke out.
He and his staff had planned in advance what they would do in case of war, so when it started, they were quick to establish a volunteer centre at their base in Lutsk. Every member of staff got in touch with their personal contacts abroad, asking for help with humanitarian aid, and this is how Euro Aid – Lutsk began its work.
Mykhaylo, a John Smith Trust Fellow since 2005 and a member of Lutsk City Council, says: "We are looking for partners in Britain who can help supply and deliver humanitarian goods to Ukraine. The best option for us would be partners who could deliver relevant goods to Poland, where we have access to warehouses. From there we can use our trucks to collect and transport the goods to Lutsk for sorting and organising before sending on to different cities of Ukraine where they are most needed. The basic needs are food, hygiene products and medicine. We can provide more details to potential partners."
Information centre and a humanitarian aid
As well as providing a humanitarian aid hub, Euro Aid is acting as an information centre. It supports local governments in Ukrainian cities which have been occupied, and works closely with heads of territorial defence units based in their region. They also liaise with other volunteer organisations helping the military and refugees in Ukraine.
Svidomi established the humanitarian and information project jointly with Ukrainian non-governmental organisation European Vector of Volyn. Together they have already established partnerships in Poland, Spain, USA, Germany and Belgium. But they need a continuous supply of goods and are looking for co-operation from more international humanitarian agencies, including in the UK.
Since their operation began Euro Aid has delivered more than 30 tons of humanitarian aid to various cities. Recently they transferred goods to military units in Donetsk, Mykolayiv, Odesa and the Luhansk regions. They've also provided goods to the already liberated cities of Trostyanets, Slavutych, Chernihiv, as well as to cities where hostilities continue – Kharkiv, Mykolaiv, Popasna and others. The organisation is sharing reports of how the aid is being distributed on its Facebook page.
How to help Ukraine with humanitarian aid
Mykhaylo says: "We desperately need more military security equipment – bulletproof vests, helmets, tourniquets, first aid kits – as well as 'dry rations', foods with long shelf-life, medicines and hygiene products. If any organisation or citizen from the UK wants to help us with goods or services, they can write to me on Facebook Messenger, or via my personal e-mail mnakhod@gmail.com or our organisation's email svidomi.office@gmail.com.
"We can easily pick up any goods that can be delivered to Poland. If there are 20 tons or more of supplies, we can also try to arrange the transportation from the UK.
"At this time, we appreciate every action that comes to the aid of our Armed Forces and people in different cities of Ukraine. Together we will win."
Find out more about our fellowship programmes