Pioneering Recycling Culture in Armenia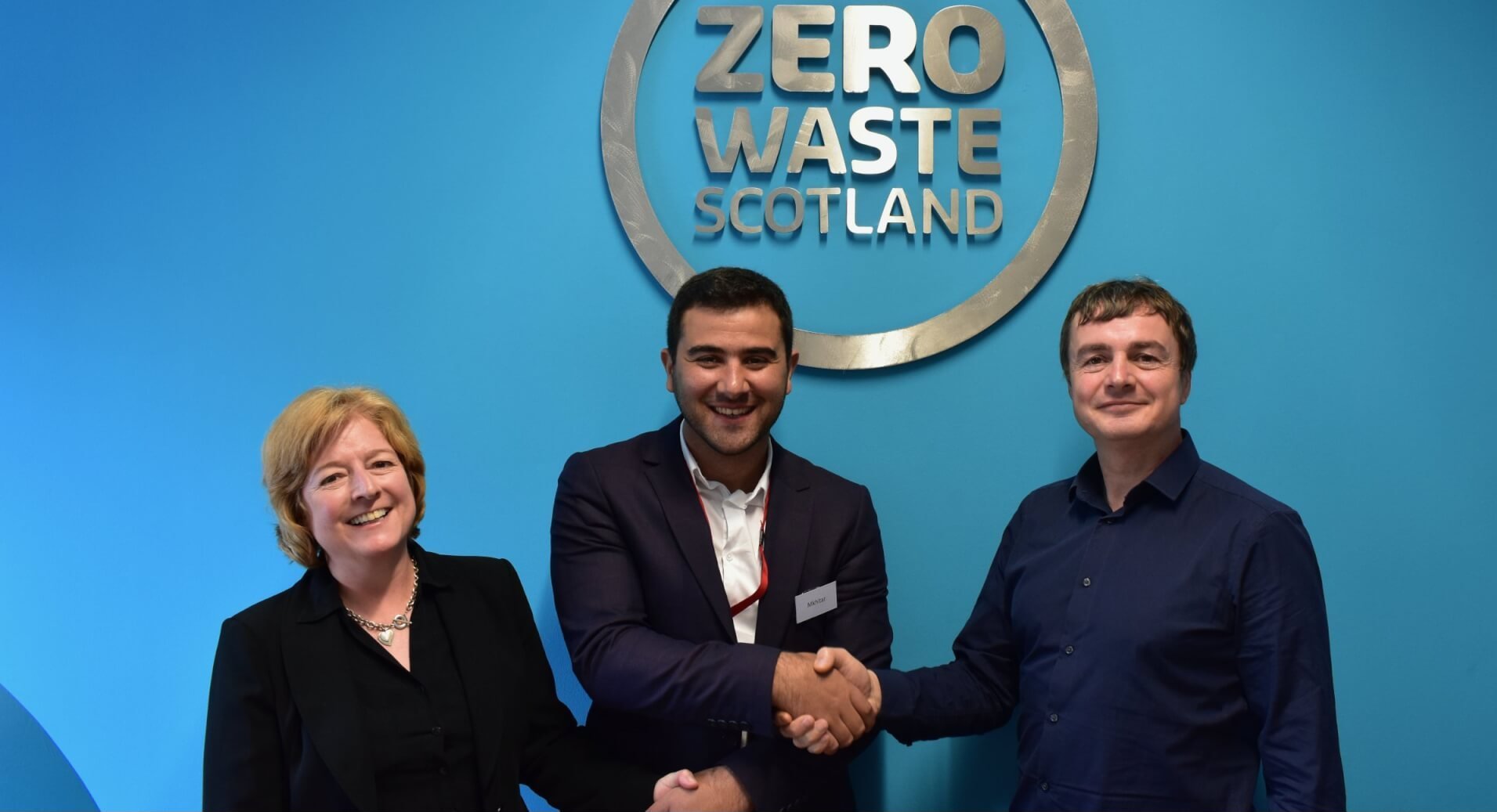 Armenia has a massive rubbish problem.  Despite its small geographical size and a population of only 3 million, it is the sixth highest waste-producing state in the world according to the UN.
Mkhitar Avetisyan (JST 2019), formerly a leading specialist at the Ministry of Nature Protection, is a recycling pioneer in Armenia.  In 2017, determined to improve the waste management culture in his country and change the decades-long poor waste habits of the population, he co-founded Innovative Solutions for Sustainable Development (ISSD).  ISSD is an NGO whose mission is to ensure sustainable development in Armenia. They do this through the implementation of innovative projects in waste management, agriculture, education and business while promoting the circular economy and female empowerment.
ISSD run a number of successful projects but one of the most effective is the Recycle It! campaign which started in 2018.  At a practical level, Recycle It! installs waste sorting bins across the country and reduces the use of non-authorised waste disposal areas but at its launch, it also set out ambitions for a public awareness and education programme, aiming to fundamentally alter the relationship people have with their own rubbish in Armenia.
When Mkhitar took part in the John Smith Trust Fellowship Programme in 2019, his 'takeaway' goal was to gather expertise and understanding to further develop the sustainability of his solid waste management work and recycling initiatives. He also wanted to learn how best to promote a new concept of social entrepreneurship opportunities in waste management which would support ISSD's aims to increase public awareness and promote environmental education.
The JST team set up meetings for Mkhitar with some of the UK's most experienced waste management organisations and experts: Zero Waste Scotland, Community Resources Network Scotland (CRNS), Westminster City Council, Department for Environment, Food and Rural Affairs (DEFRA) and the London Waste and Recycling Board, all who generously shared their best practices on waste management and recycling with him. 
Mkhitar also attended a high profile conference on resourcing the future organised by the Chartered Institution of Waste Management as well as taking part in Circular Economy Week events which featured a number of environmental experts. One of the 'light bulb' moments of Mkhitar's time in the UK was his visit to an impressive state-of- the-art integrated waste management facility in London, operated by Veolia UK. That visit gave him the inspiration to launch a similar facility in Armenia as well as to open an education centre for children and young people. 
When Mkhitar returned home to Armenia, he wasted no time in applying the knowledge and strategies he gained during the Fellowship Programme to boost the work of ISSD.  In addition to practical know how – from marketing tools to logistical service improvement, from reporting methods to specific training, Mkhitar felt his newly improved leadership and networking skills helped him better communicate and cooperate with stakeholders and government agencies.
Results have been rapid and impressive.  Mkhitar says, 'Thanks to the great experience gained in the field of sustainable waste management through the meetings set up for me on my JST Fellowship Programme, I managed to increase the number of partner organisations of Recycle It! from 48 to 341 within one year. ISSD is introducing a new recycling culture to Armenia to the benefit of all'! It's calculated that ISSD also saw an increase to nearly 300,000 beneficiaries within the year – those who use the recycling bins, attendees of environmental trainings run by ISSD, as well as visitors to the festivals and public events where ISSD run waste sorting services.
Recycle It! goes from strength to strength, plans to install a waste recycling facility are underway and a new business idea is being developed to build a 'reverse vending machine'. This will produce synthetic filler or padding from recycled items people put into the machine. Since his time in the UK, Mkhitar has kept in touch with Westminster City Council and the London Waste and Recycling Board and they continue to offer advice and support on new ventures such as this.  With ISSD's work in recycling, waste reduction and environmental education, Mkhitar is seeing real progress towards a cleaner, more sustainable Armenia. 
DECEMBER 2020