Reducing poverty – and increasing vegetarianism – in Tajikistan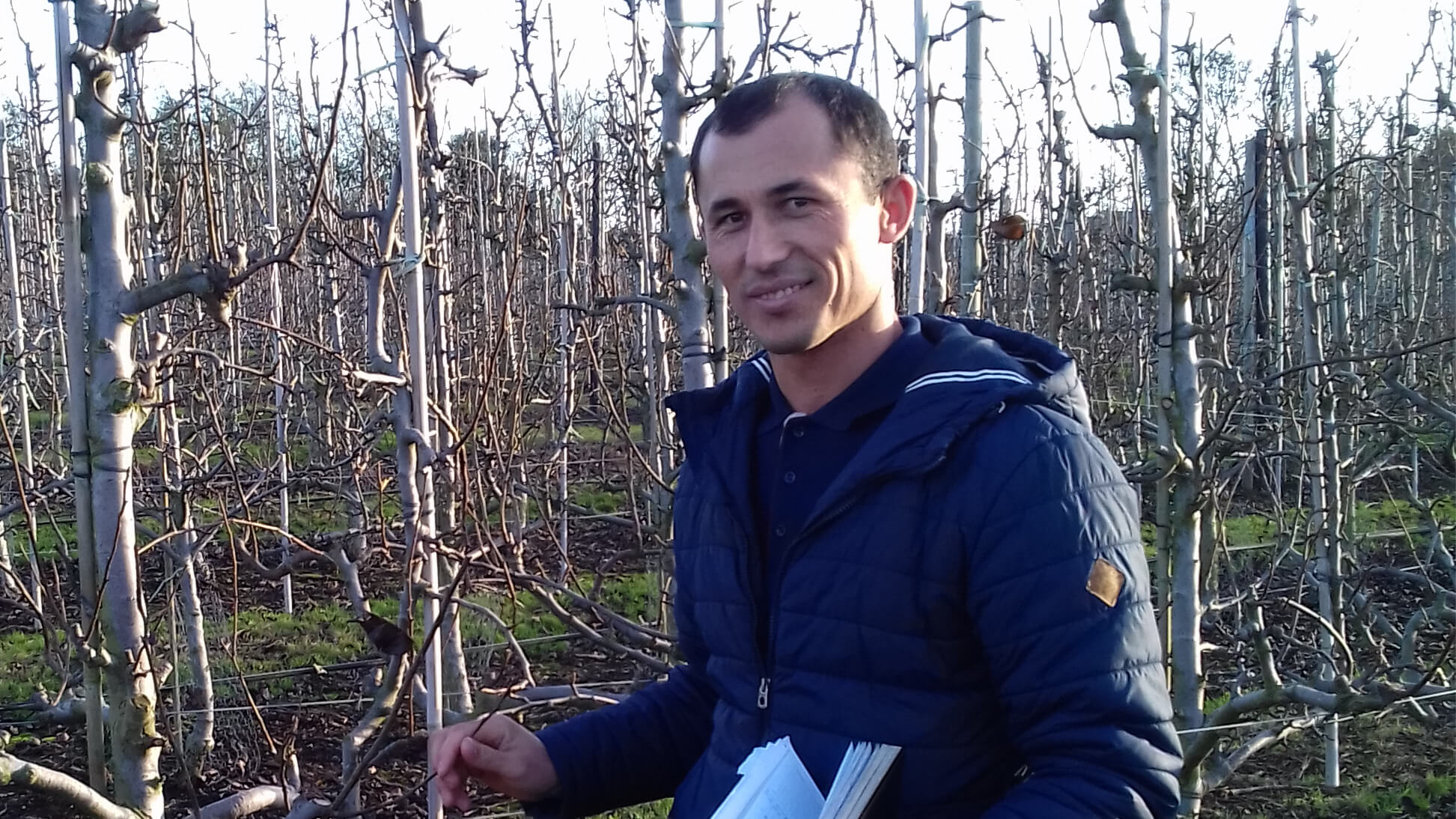 Almost 70% of Tajikistan's population makes a living from the agricultural sector with 30% of the country's rural areas living below the poverty line.  Steady progress has been made in growing the economy but as one of the least developed countries in the world, the effects of climate change on Tajikistan's rural population hits hard, affecting the land and crops and therefore incomes.
Dalerdzhon (Daler) Nabiev is an agricultural specialist from the rural northern part of Tajikistan with a keen interest in the environment.  One of the country's very few vegetarians – more on that later – Daler has been on a mission to help reduce poverty and mitigate the influence of climate change in his region by introducing new techniques for sustainable farming.
Since Daler took part in the John Smith Trust Fellowship Programme in 2017 which helped him shape his plans, he's seen his efforts bear fruit – figuratively and literally.  In the past 3 years, 96% of farmers trained by him in the new methods have reported increases in crops and income.  There have also been increased apple and cherry harvests thanks to his establishments of intensive orchards.
Back in 2017, Daler's John Smith Trust (JST) experience started with his desire to learn about innovative agricultural methods used in the UK which he could adapt for use in his region of Tajikistan.   He wanted to help stabilise and increase the livelihoods of rural farmers through increases in their crop production while showing them more environmentally friendly farming methods.
The meetings arranged for Daler on the JST Fellowship Programme had him see some of the best in agricultural and environmental practice in the UK. He met with David Gardner, then CEO of the Royal Agricultural Society of England and in Scotland with Alistair Prior, then Head of Rural Communities Policy & Scottish Rural Support Network. He also paid practical visits to an arable farm in north Lincolnshire to learn about low-tillage methods thanks to Jim Godfrey -and spent time talking all things intensive orchard with Mark Bowsher-Gibbs of Blackbird Farming, an orchard and farming business in Kent run to high standards of societal and environmental responsibility. Daler called these meetings 'totally ground breaking' for his plans.
A meeting with the Vegetarian Society of the UK gave Daler huge support and motivation to continue with his own vegetarianism back home and encouraged him to be more vocal about its positive effects. Daler was already committed to the principle of meat-free eating because of his environmental principles but was an anomaly in Tajikistan where vegetarianism is almost unheard of.  He is proud that today, thanks to his campaigning efforts, he knows of about 100 people who he's influenced to turn vegetarian and many more who have shown an interest in it.  There is now even a vegetarian restaurant in Khujand, Tajikistan's second biggest city (and one of the oldest cities in Central Asia, dating back about 2,500 years).
As part of the JST Fellowship Programme, Daler's visit to Cornwall, including time at the Eden Project, made a deep impression on him.  He was so inspired to see the way Cornwall's infrastructure helps people interact with nature that he has created a society for nature lovers in Tajikistan. 'The Nature Enthusiasts Society of Tajikistan' is in its early stages but Daler is confident of its development.
As soon as he returned home from the UK from his JST Fellowship Programme, Daler set to work adapting what he had learnt in the UK to the Tajik needs. Writing and delivering multiple training sessions across his region, he's been training up those in the agricultural business in these new efficient methods of irrigation, pasture management, soil fertility and 'green' zero tillage sowing (sowing crops without disturbing the CO2) as well as setting up hectares of intensive orchards.
Despite the recent difficulties of Covid, especially on the rural economy, Daler is very satisfied with progress made so far to the improvement of crops and income for thousands of farmers in his region.  He is also seeing greater understanding and application of more environmentally friendly methods by the farmers thanks to the training he has given them.
Daler says that before leaving for the UK, he was sure would be bringing back useful knowledge from his time there but had no idea just how revolutionary the Fellowship Programme would be for him.   "The JST experience was literally life changing for me.  I am totally changed as a result of it  – not just with my professional knowledge but with my understanding of the world and of myself.  JST has given me something not only of benefit to me for all my life but also of benefit for everyone I meet and can share it with!'
Today, Daler has turned to the academic world for his next chapter.  He has won a scholarship to pursue his PhD in Hungary looking in detail at sustainable wheat production through no-tillage technology and optimising soil health.  That's Daler – determined and focused to do everything he can to aid his mission to reduce poverty and mitigate climate change in his rural region!
JANUARY 2021