Uniting civil society in Georgia during Covid-19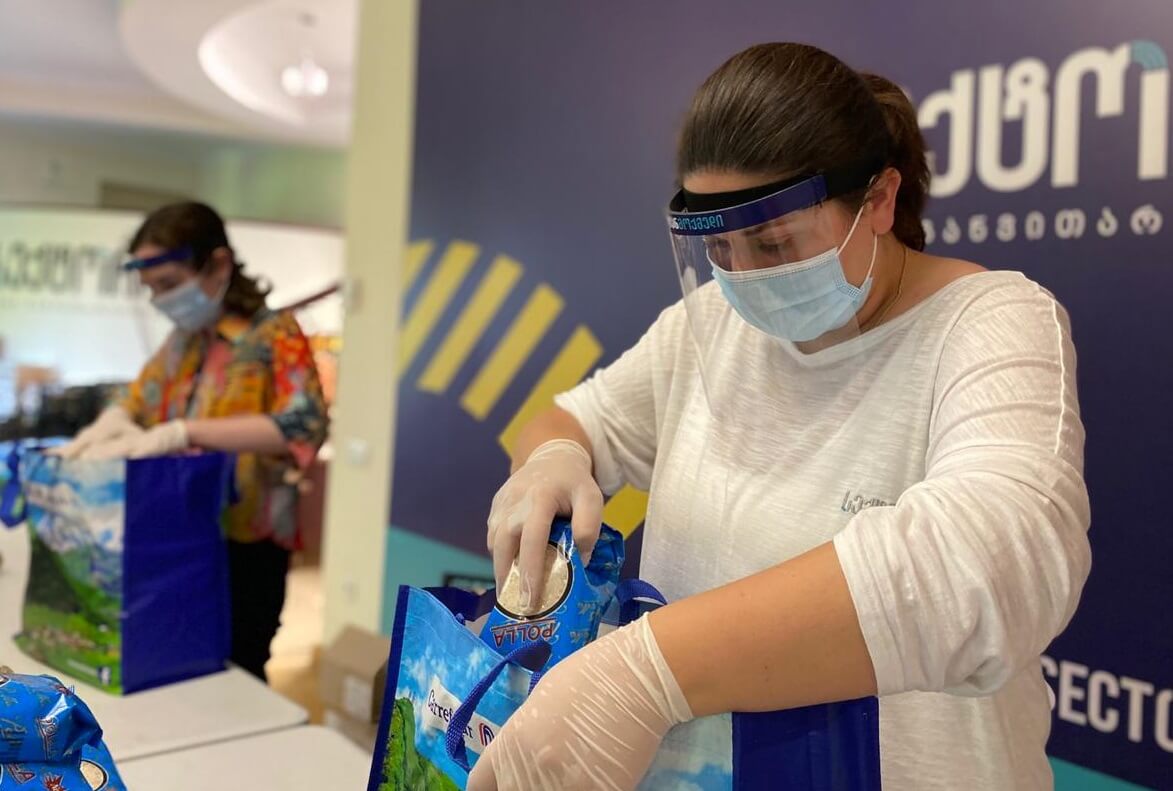 Little did Ketevan Chachava know that the concepts for civic initiatives she developed while in the UK in 2019 on her John Smith Trust Fellowship Programme would be a life line for many less than a year later during a global pandemic!
Ketevan is at the heart of civil society organising in Tbilisi, Georgia. She is the Executive Director of the Centre for Development and Democracy (CDD) and one of the founders of Sector 3. Sector 3 is a Georgian civil society organisation which promotes partnerships between civil society, private and third sectors by identifying common challenges and finding common solutions. Sector 3 is the brainchild of 11 civil society leaders and activists who are all managers of other young organisations. They are all active in binding together civil society in Georgia across different issues.
One of the issues Ketevan identified to work on as part of her John Smith Trust Action Plan in 2019 was the system and process of food distribution to the most needy. In Georgia, the formal structure of foodbanks does not exist, and with over 20% of the population living below the poverty line, Ketevan believed the concept of food banks would be an essential contribution to a solution.
While in the UK, Ketevan had met with Sumi Rabindrakumar – the Head of Policy and Research at the Trussell Trust UK which is the UK's largest network of food banks. She also met with the team from Inspiring Scotland – an organisation which applies venture capital principals, such as long term investment, to the voluntary sector. These meetings – and others on how crowd funding and Corporate Social Responsibility can contribute to initiatives organised by civil society organisations such as hers – really gave Ketevan ideas and inspiration to strengthen her NGO's work. So when the global pandemic hit Georgia, Ketevan was able to draw on this experience to swiftly adapt Sector 3's existing partnership work with civil society, the private and third sectors to help those most affected.
Organising Georgia's heartfelt weekly show of appreciation for key workers which united the country – 'Applause of Appreciation' as it was known – became the stepping stone for Sector 3 to set up a new civil movement project called 'You Creator'. This was done in partnership with Endowment ProDemos (a civic organisation supporting NGOs with donor funding from both national and international private businesses and private donors). The aim was to set up initiatives helping those affected by the pandemic that could be joined or supported by any citizen or organisation who had financial, human or intellectual resources to offer.
YouCreator galvanised 150 organisations who offered help to those in need across Georgia in an unprecedented show of solidarity and social responsibility. By standing together, they were able to help the socially vulnerable in many different ways. Starting with food support and access to connectivity, they delivered: over 12,000 kg of food to students from occupied territories studying in Tbilisi and to displaced families; computers and free internet service to hundreds of families and many hundreds of students so they could continue their education online and donated mobile phones to older people living in remote eastern areas. Rapid response grants to support the most vulnerable and severely affected by the pandemic and grants supporting public health information campaigns for certain target groups were awarded by Sector 3, Endowment ProDemos and their partners.
YouCreator also got creative with a Facebook platform called 'Game of Homes' which was created to encourage young students to stay home – it now has more than 8,000 active members and more than 50 partner companies. And Sector 3 supported 'Artidepressant', an online platform for singers and musicians on Facebook where over 100 live concerts were held, and the number of viewers has reached 200,000 and counting.
As the effects of the pandemic continue to be felt, Ketevan and her team continue their partnership work to fundraise and gather resources in an effort to reach and support those most in need. She has been heartened by seeing how such adverse circumstances can galvanize societies to do good for others and unite in solidarity and support and is very grateful for the practical learnings from the UK that she was able to apply. Ketevan says, 'The experience and know-how I obtained in the UK on the JST Fellowship Programme turned out to be absolutely crucial in many ways to our work at Sector 3 during the pandemic'. And although the UK's system of food banks informed her work with food distribution during these past months, as of yet the concept of food banks does not formally exist in Georgia. This is something Ketevan is keen to pursue – watch this space!
November 2020