Ukraine: efforts to tackle the war's devastating environmental impact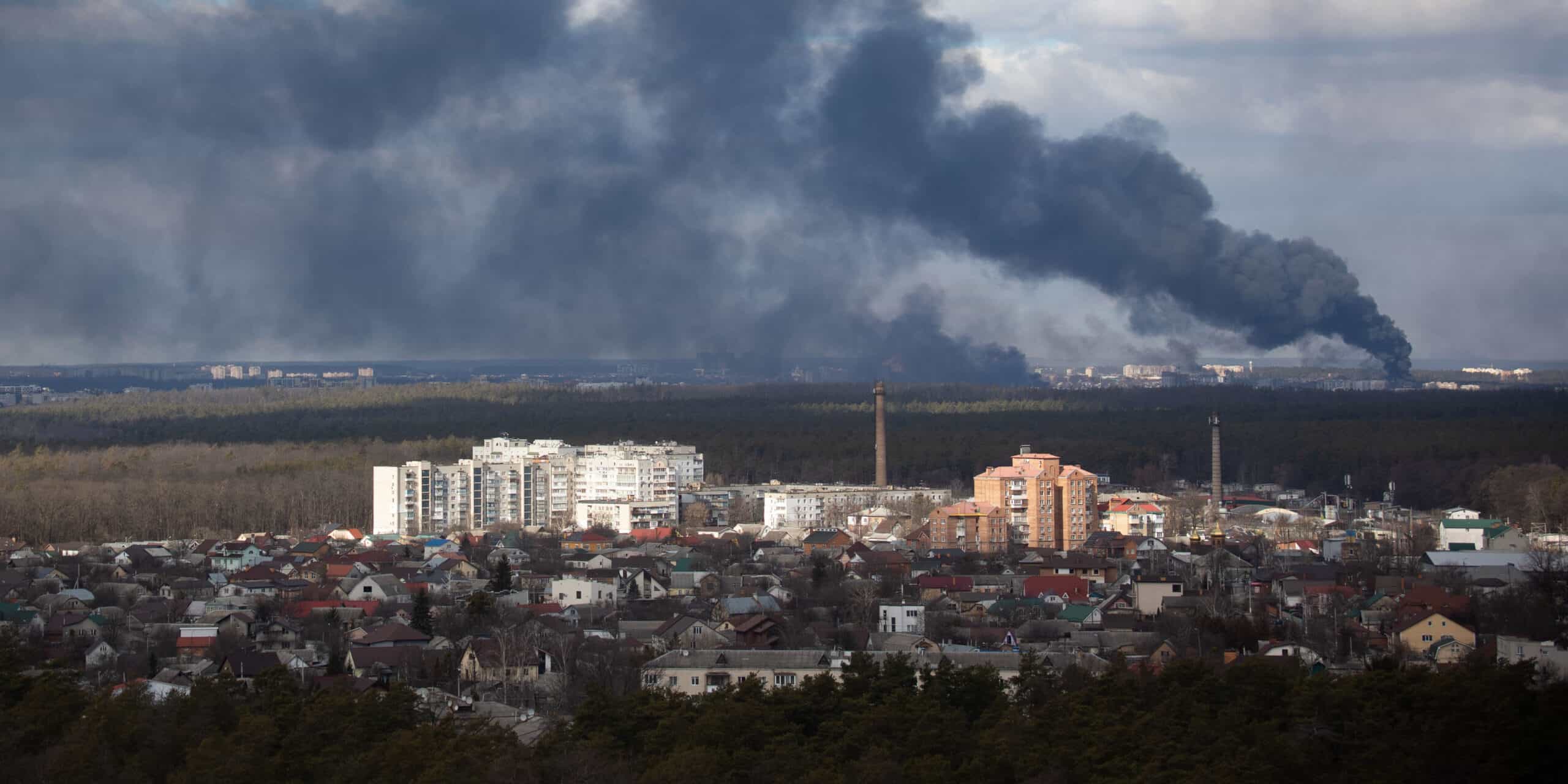 Since Russia's attack on Ukraine, environmental lawyer Olya Melen-Zabramna has been documenting the catastrophic environmental impacts of the war and planning for her country's future rehabilitation.
Olya, a John Smith Fellow since 2004, is head of the legal unit at Environment-People-Law (EPL), based in Lviv, Ukraine. She works with colleagues to collate data on damage and possible future risks to the environment in Ukraine and beyond, caused by Russia's war. This includes looking at risks to the country's nuclear facilities, considering management of the plants and how to deal with forest fires in areas of occupation. The team at EPL are also exploring international avenues to seek compensation for the damage wrought.
Since the outbreak of the war, Olya has had to work from home and look after her children at the same time. Against this difficult backdrop, she and the rest of the team at EPL have been working tirelessly to document the impact Russian aggression is having on the environment.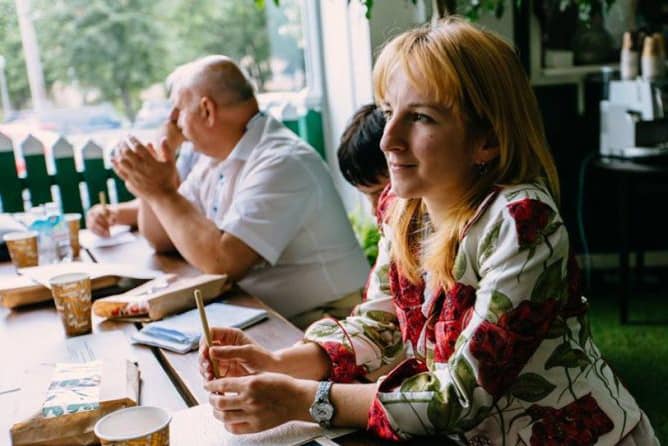 Environmental repercussions overlooked
The loss of human life in Ukraine has been devastating. But the environmental repercussions have also been catastrophic, widespread, and often overlooked. As Olya explains: "The war has damaged a great number of ecosystems and protected areas. In southern Ukraine, fighting is taking place in protected areas and over the routes of many migratory birds, disturbing their habitats. Forests have been particularly impacted, with higher rates of deforestation and greater risk of fires in protected areas across the country, including in occupied parts of eastern Ukraine."
The war has made it too perilous for emergency services to access these areas to stop or manage the fires. Forest fires are one of the most pressing environmental concerns of the war so far, as they are destroying precious ecosystems and exacerbating climate change. Bombing and mining of forests and other land has also made access dangerous and left agricultural land polluted and vulnerable to exploitation.
"For instance, forests in the north have been mined by the Russian army, making safe passage there impossible," Olya says. "There was a recent accident in which two forest workers were killed when a mine exploded."
Pollution of watercourses
"Watercourses are also being polluted," says Olya. "Many of the sewage cleaning facilities in big towns and cities have been destroyed by bombs and untreated sewage water flows directly into open rivers. Ukraine's fertile soil has also been contaminated by oil leakages and heavy metals leaking from military equipment, ammunition, and transport, and water has been polluted by oil spills from tankers supplying the Russian army."
With a lot of fighting taking place in and around the Black Sea, its ecosystems are also under attack. Olya says: "There have been huge numbers of dolphins from the Black Sea being found washed up dead on the beaches – not just in Ukraine but also on Turkey and Bulgaria's shores. It is likely that their sonar systems are sensitive to sounds emitted by the Russian navy. The Black Sea is flooded with Russian military ships, which harm dolphins' ability to locate one another and communicate. Black sea waters were mined by Russians and remnants of navy vessels, missiles and military aircrafts continue to pollute waters."
This and the pollution in other shared water resources is just one example of how the environmental impact of the war transcends Ukraine's borders. "It will affect coastline countries through the destruction of habitats and depletion of fish stocks," says Olya.
Concern beyond Ukraine's borders
Pollution from fires in forests exposed to radiation (including around Chernobyl nuclear power plant) and possible power plant accidents could also affect neighbouring countries to differing levels.
"Russia has so far conducted 2,500 airstrikes against Ukraine, which have caused terrible air and soil pollution. We don't have accurate data to assess transboundary air pollution yet. But high levels of greenhouse gases are being emitted as a result of forest fires, the destruction of oil storage sites and refineries, and other chemical facilities," says Olya.
The risk of nuclear pollution is a real fear in Ukraine and internationally, particularly after Russian troops entered Chernobyl and occupied Europe's largest nuclear power plant in Zaporizhzhia in southern Ukraine in March. They are still located there with tanks and explosives and with staff of Rosatom – the state nuclear agency.
Environmental management suffers in war
As well as the direct impact on Ukraine's ecosystems and environment and those of neighbouring countries, a less obvious but similarly worrying repercussion of the war is the disruption of the country's environmental administration, management, and monitoring systems.
Olya says: "Management bodies in charge of protected areas have lost employees, premises, financial resources, and their capacity to supply vital equipment and goods, for instance because they no longer have access to vehicles."
Municipal facilities for environmental and waste management services, and air and water monitoring stations in eastern and southern Ukraine have also been destroyed, and scientists have been forced to move or suspend their work. There is great concern about growing volumes of construction waste and debris generated by the war. Without proper management, such waste poses a serious threat to citizens' welfare. Environmental governance has been disrupted at both a local and a national level. Olya says: "The government has also suspended some important environmental reforms because of the war, and governmental funding for environmental projects has stalled."
Monitoring the harm caused and preparing for the future
Olya and her team are working hard to document the environmental impact of the war and use satellite imagery to monitor instances of damage. They are collating evidence which they hope can be used to hold the Russian government to account. She says: "We believe that Ukraine should be compensated for all the damage to the environment done by the Russian army. We are working on a mechanism and identifying sources for such compensation."
Beyond the work of the EPL team, there are also investigative and judicial procedures underway to assess the damage and seek redress. Olya says: "Prosecutors in Ukraine have opened hundreds of cases on ecocide. We hope they will get sound court decisions against Russia. The Ministry of Environmental Protection and Natural Resources of Ukraine is collecting evidence of the damage done to natural protected areas in the country, including material damage to property."
However, the scale of the work involved in monitoring, analysing and publicising the impact of environmental damage is huge and external help is needed. Olya says: "We need mobile equipment for the quick collection and analysis of soil, water and air on site to gather solid evidence of environmental damage to present to international institutions and tribunals. We need expert advice on mitigation measures and support with the 'Green' reconstruction of Ukraine. Local municipalities also need help remediating contaminated land, with waste management and reconstruction of municipal amenities, and launching projects on natural rehabilitation."
Please get in touch via admin@johnsmithtrust.org if you can consider helping Olya and her team in their work.