A bridge between business and government in Kyrgyzstan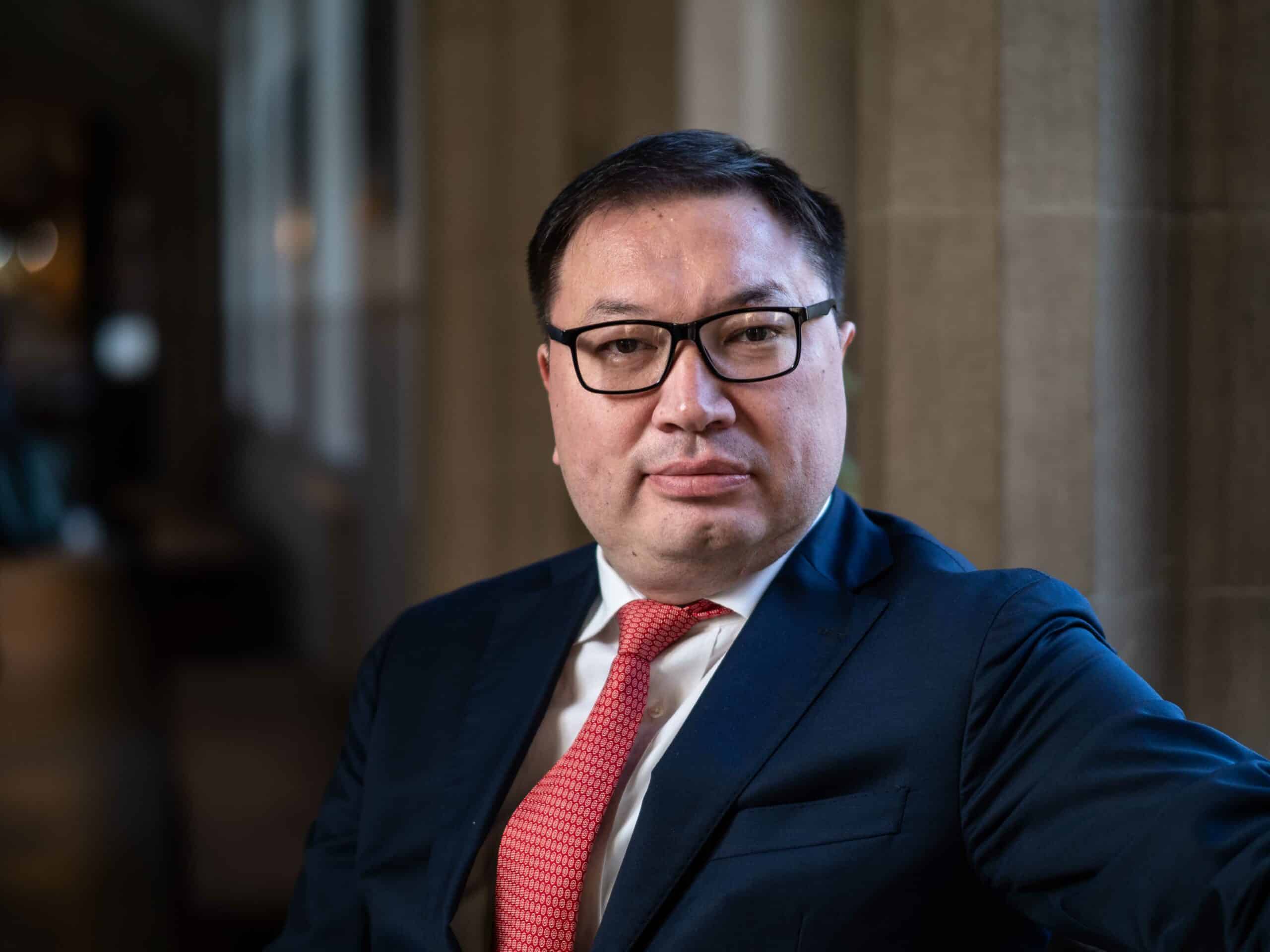 In his new role as Head of Secretariat of the Investment Council, Kyrgyz Fellow Uluk Kydyrbaev is helping shape a policy environment in which entrepreneurship can thrive.
Uluk Kydyrbaev, a John Smith Trust Fellow since 2011, believes his country's greatest asset is its people. "We've never had the luxury of oil or natural resources," he says. "But the Kyrgyz Republic is somewhere where people follow their entrepreneurial spirit. We have a growing SME (small and medium enterprise) sector and we've built a generation of people with entrepreneurial mindsets."
SMEs make up around 42% of Kyrgyzstan's GDP, according to the World Bank. Recognising their importance, the Kyrgyz government stepped in to provide a package of support during the COVID-19 pandemic, with additional funding from the World Bank and Asian Infrastructure Investment Bank.
But for the SME sector to continue to thrive, more supportive policies and laws are needed. These can only be put in place when business and government communicate with each other. Uluk's new role is dedicated to enabling effective dialogue between the public and private sector to support business growth.
Common understanding
"The Secretariat of the Investment Council is the main venue for government and businesses to communicate on matters related to the investment climate, a business enabling environment and the promotion of public-private partnerships," he explains.
"We symbolise ourselves as a bridge between government and business. We're there to facilitate that dialogue for all parties to ensure that everyone is heard and understood. Because although we all speak the same language, when government officials and business officials talk to each other, they may speak it a little bit differently.
"The role of the secretariat is to translate that language, so it's understood by both parties. Not only translating but also moderating and facilitating so that we all reach a common understanding. Because we all want our economy to grow and flourish."
Working at policy level
Uluk's interest in helping business and government understand each other began in 2006, when he was appointed to lead a small business intermediary organisation. "I got the taste of how to work with businesses and government," he says.
"With the initial idea of making positive changes, I got into helping to create a more inclusive economy, helping young people pursue their dreams and become entrepreneurs, and empowering women."
He adds: "But I believe that the policy level is where we can make real changes and unleash this hidden potential of our nation. I'm always fighting for better policies."
Public-private dialogue
When Uluk applied for his John Smith Trust fellowship in 2011, his action plan goals were to strengthen existing public-private dialogue platforms in his country. These included the National Sustainable Development Council of the Kyrgyz Republic and the Council for Business and Entrepreneurship Development.
"I was working with platforms that were under the prime minister, president and parliament, where I was actively engaged after my fellowship," he says. "My specific purpose was to help improve the economy through a stronger and more professional engagement of private sector and public-private dialogue."
While in the UK, Uluk was curious to see how government and the private sector work together on economic policy. During his Fellowship, he met with representatives of large companies, including Rio Tinto, and the London Chambers of Commerce. He also visited the UK and Scottish Parliaments.
Networking opportunities
"I liked the meeting I had with the Rio Tinto," he says. "It helped me to understand how investors assess risk and look at many dimensions before they decide to come to a country. It made me realise that whenever we decide to change laws regarding investment, we need to understand how this is going to be perceived by potential investors.
"I also enjoyed the London Chambers of Commerce. It was a lovely meeting, and I learned a lot about what they do. But the way they work – as a networking institution – is quite a new culture in the Kyrgyz Republic. So, it was more about looking to see what could happen in the future. I could see the potential direction of where we could be going."
For Uluk, one of the biggest impacts that the fellowship had is ongoing networking between Johns Smith Fellows. "It was crucial," he says. "Relationships were built between young leaders who would never have met each other otherwise."
Sustainable development
In his previous role at as Enabling Environment Partnerships Lead at USAID, Uluk specialised in promoting the green economy in Kyrgyzstan. This, along with other sustainable development themes, will continue to be a focus area at the Investment Council.
Uluk says: "We have cross-cutting strategic directions we want to focus on: digitalisation, climate change and women's empowerment. And one of the main purposes is to make sure there are a lot more opportunities for public-private partnerships."
Looking specifically at the green economy, Uluk says the Investment Council is well-placed to promote policies to incentivise small and medium enterprises to introduce green technologies into their businesses. These could be measures such as improving insulation, using energy-saving equipment and moving towards electric vehicles (EVs).
"Green technologies should be affordable," he argues. "There should be lower taxes on them to makes them more attractive for businesses."
Looking to the future
Uluk sees great potential for development in his country and believes the private sector has a key role to play. "It's a beautiful country with amazing, entrepreneurial people," he says. "I believe we have all the conditions to prosper, grow, build good relations with our neighbours and with other countries.
"My hope is that we can trade with everyone and that we can improve standards of living. I want our people to be healthy, happy in what they're doing, pursuing their dreams. Some of those conditions are in place. It's about seizing opportunities."
Photo by Sarah Oughton