New programme launches for Belarusians in exile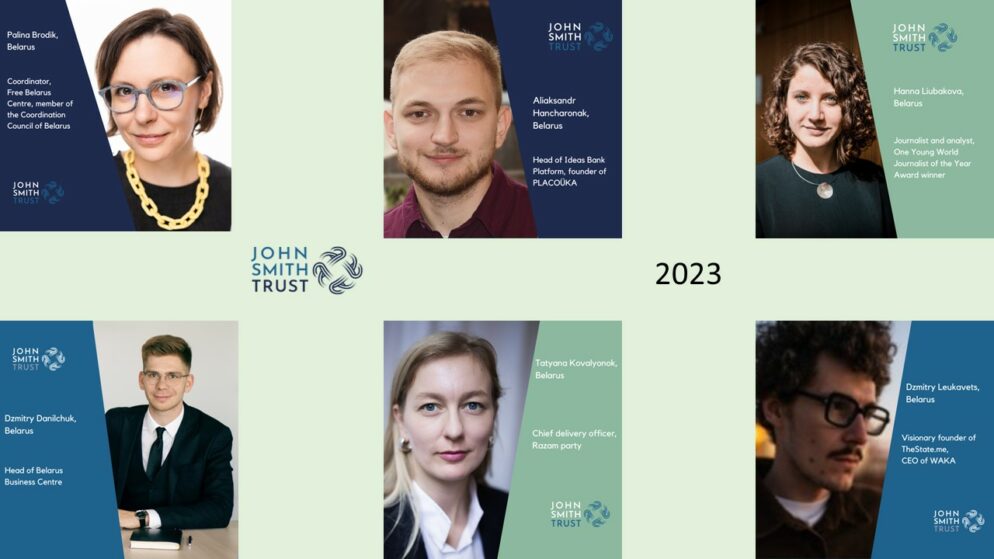 John Smith Trust's Belarus Diaspora Fellowship Programme, which launches today, will support six Belarusian professionals living in exile.
We would like to welcome our six new Belarusian Fellows to the John Smith Trust network. Palina Brodik, Dzmitry Danilchuk, Aliaksandr Hancharonak, Tatyana Kovalyonok, Dzmitry Leukavets and Hanna Liubakova are all working for better governance, justice and sustainability in their country. They are currently living outside Belarus.
The John Smith Trust will work with each Fellow to co-design bespoke individual action plans and a collective action plan for the group. Our programme will include a residential programme in Warsaw,  five online learning sessions, individual mentoring and coaching, group work and a  residential programme in the UK.
It runs in conjunction with our wider regional Fellowship Programme and offers opportunities for networking.
About our new Fellows
Palina Brodik is a coordinator of the Free Belarus Centre, a member of the Coordination Council of Belarus, and former presenter at Hromadske Radio in Ukraine. She has 13 years of experience in defending human rights and observing elections.
Dzmitry Danilchuk is the head of Belarus Business Centre, a project organised by the Polish Union of Entrepreneurs and Employers through international support. It aims to help private Belarusian businesses that are relocating en masse to Poland and the EU.
Aliaksandr Hancharonak is the Head of Ideas Bank Platform, a platform for creating, discussing and promoting reforms and development projects in Belarus. He is also the Founder of PLACOÜKA, a media project aimed at Belarusian youth.
Tatyana Kovalyonok holds the position of Chief Delivery Officer at Viktar Babaryka's Razam Party. She has been actively involved in the Belarusian democratic movement since 2020.
Dzmitry Leukavets is the founder of TheState.me, pioneering the future of people-powered governance. He is committed to leveraging technology for societal advancement and individual freedom.
Hanna Liubakova is a journalist and analyst from Belarus. She is a non-resident fellow at the Atlantic Council. She has written about the latest developments in Belarus for The Washington Post, The Economist, Deutsche Welle, and other international outlets.
Building networks
The John Smith Trust has been supporting emerging leaders from Belarus since 2017 and there are 11 Belarusian Fellows in our existing network.
According to the Associated Press, between 200,000 to 300,000 Belarusians have left Belarus to escape repression that followed rigged elections in August 2020.
"In the current climate, we believe it's more important than ever to support exiled Belarusian professionals who are committed to better governance, sustainability and social justice in Belarus," says Director of the John Smith Trust, Maija Paasiaro.