Protecting Georgia's forests through sustainable rural development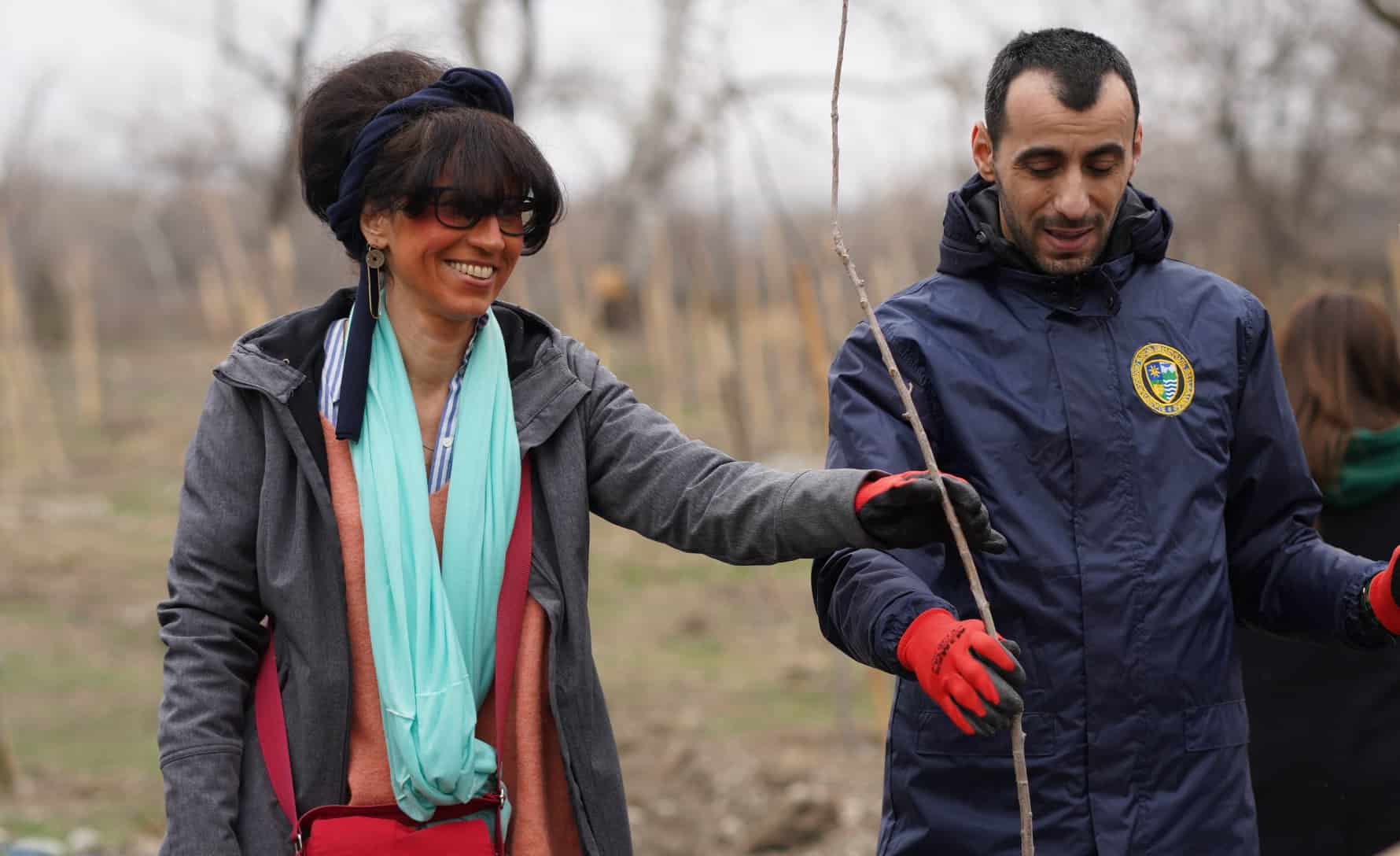 Forests play a vital role in regulating the world's climate and preventing biodiversity loss. In Georgia, Nana Janashia is working with both the government and local communities to protect them.
At the UN Climate Conference (COP26) in November, 141 countries signed a commitment to "halt and reverse forest loss and land degradation by 2030". This recognised the urgent need to end deforestation and the importance of sustainable development in rural communities.
Around 40 percent of Georgia's land mass is covered in forests. Georgia's forests are under threat from the unsustainable use of natural resources and illegal deforestation. There is also a low level of public awareness about the causes and impacts of climate change and a lack of implementation of environmental protection legislation.
Nana Janashia, a John Smith Fellow since 2006, is the executive director of the Caucasus Environmental NGO Network (CENN), a leading environmental non-profit organisation operating in the South Caucasus region – Georgia, Armenia and Azerbaijan. CENN works at both local and regional levels to protect our environment by fostering sustainable development throughout the South Caucasus. CENN specialise in: combating climate change, sustainable management of resources, building and developing healthy and prosperous climate resilient communities, and empowering women and girls to participate in creating inclusive solutions.
Learning about UK environmental policy
During her fellowship programme 15 years ago, Nana visited the UK's Environment Agency and the Department for the Environment, Food and Rural Affairs (DEFRA). These meetings helped her gain an understanding of how environmental policy and regulation is incorporated within more general decision-making processes at a national level.
She also met with representatives of Lewisham Council and Friends of the Earth, to learn how environmental policies are implemented and how communities, schools and businesses are involved in this process.
"It was a great experience to learn about how the UK government works to address its own environmental challenges," says Nana.
Lobbying the government
Back in Georgia, Nana honed the action plan she'd developed during her fellowship, using the knowledge she gained in the UK, to address specific target groups and thematic areas. Using her John Smith Trust connections, Nana established a partnership with Lewisham Council to devise thematic training courses for both state and non-state target groups in Georgia.
Under Nana's leadership, CENN has made several breakthroughs in Georgia regarding environmental sustainability. She initiated policy dialogues with the Ministry of Environmental Protection and Agriculture and the Parliamentary Committee on Environment and Natural Resources to lobby for changes in environmental policy.
A major success for CENN was developing Georgia's first National Forest Policy, which was approved by Parliament in 2013. The policy, which reflects best international practices, was drawn up specifically to counter the huge deforestation levels that occur in Georgia due to illegal firewood production.  The National Forest Policy created the basis for the implementation of the reform in the forestry sector. Specifically, the forest policy initiated the creation and adoption of a new Forest Code that will introduce sustainable forest management and promote inclusive rural development.
Fellows collaborate and share expertise
In October 2021, the Greenhouse Agency ran an online campaigning and communications masterclass for John Smith Trust Fellows. Greenhouse is a powerful communications agency who work with individuals and businesses to build meaningful change.
They are committed to delivering social and environmental impact on a global scale and support pioneers, innovators, campaigners – people who are dedicated to making a positive impact on the planet.
Nana was one of our Fellows selected to share information on her project as a basis for discussion with Greenhouse and other Fellows to brainstorm ideas and solutions to the challenges. Nana says: "The opportunities the John Smith Trust provides to connect with like-minded people, to discuss the challenges we're facing and to learn from each other is invaluable."
Embrace Tsalka
One of CENN's current projects, which has its fair share of challenges, is based in the marginalised rural community of Tsalka in the south of Georgia. It's a mountainous region with an ethnically diverse population, made up of Armenians, Azerbaijanis and Greeks, most of whom rely on agriculture for their livelihoods.
"The community is very vulnerable," says Nana. "Social integration is very hard there and the poverty level is high." The isolated nature of the community also means it lacks investment from the government and the private sector. Natural resources are being used in an unsustainable manner. Public awareness is low and farmers are lacking skills to implement environmentally friendly and climate-resilient practices. Due to intensive agriculture and overgrazing, land degradation is high, creating challenges for local farmers. Another major issue is people cutting down trees to burn to heat their homes.
"We decided to work with this community and started a project called 'Embrace Tsalka' that is supported by the EU ENPARD programme in Georgia," says Nana. "The whole idea is to develop the rural economy so that the environment and the natural resources are protected."
Community-led approach
"We went to Tsalka and had intensive consultations with the local community and asked: 'What are the critical problems here?' We created a local action group, whose members are elected from the private sector, from the state, and from community groups. We made sure women and vulnerable people, including youth and migrants, are represented," says Nana.
Through the action group, CENN helps empower local community organisations and stakeholders to advocate for their needs. One of the recent success stories of community advocacy is linked to solving the local energy shortage. The action group identified that the main problem in the target community was an inadequate energy supply. The municipality has few forest resources and can't satisfy energy needs – the population mostly depends on gas for heating.
Nana says: "There were 11 villages who did not have gas supply although the government had committed to providing gas everywhere. We helped the local action group to develop and implement an advocacy campaign, that included stakeholder consultations, research and establishing proper evidence."
Although heating via gas is not the most environmentally friendly option, in the short-term it is more important to protect the forests and buy us time to implement more sustainable options in the long-term.
Successful advocacy campaign
CENN, in cooperation with the Tsalka local action group, developed petitions calling on the government to invest in the development of the Tsalka region, including providing a gas supply to the target community. CENN identified members of parliament and state agencies to target with the petitions. We have already been informally informed that the state will satisfy the requests of the petition and are currently awaiting a formal response. "We're really hopeful this document will work," says Nana. "If it doesn't work, we have alternative scenarios for how to proceed."
CENN has a long-term strategy to foster modern and sustainable development values, by building bridges between communities and developing a progressive society that values and protects the environment.
Nana says: "We believe that investing in the education and empowerment of youth is critical to achieving these goals. So one of CENN's key directions for the future is to support the youth, who are the most progressive part of our society."
Find out more about our fellowship programmes