Protecting the Environment in Belarus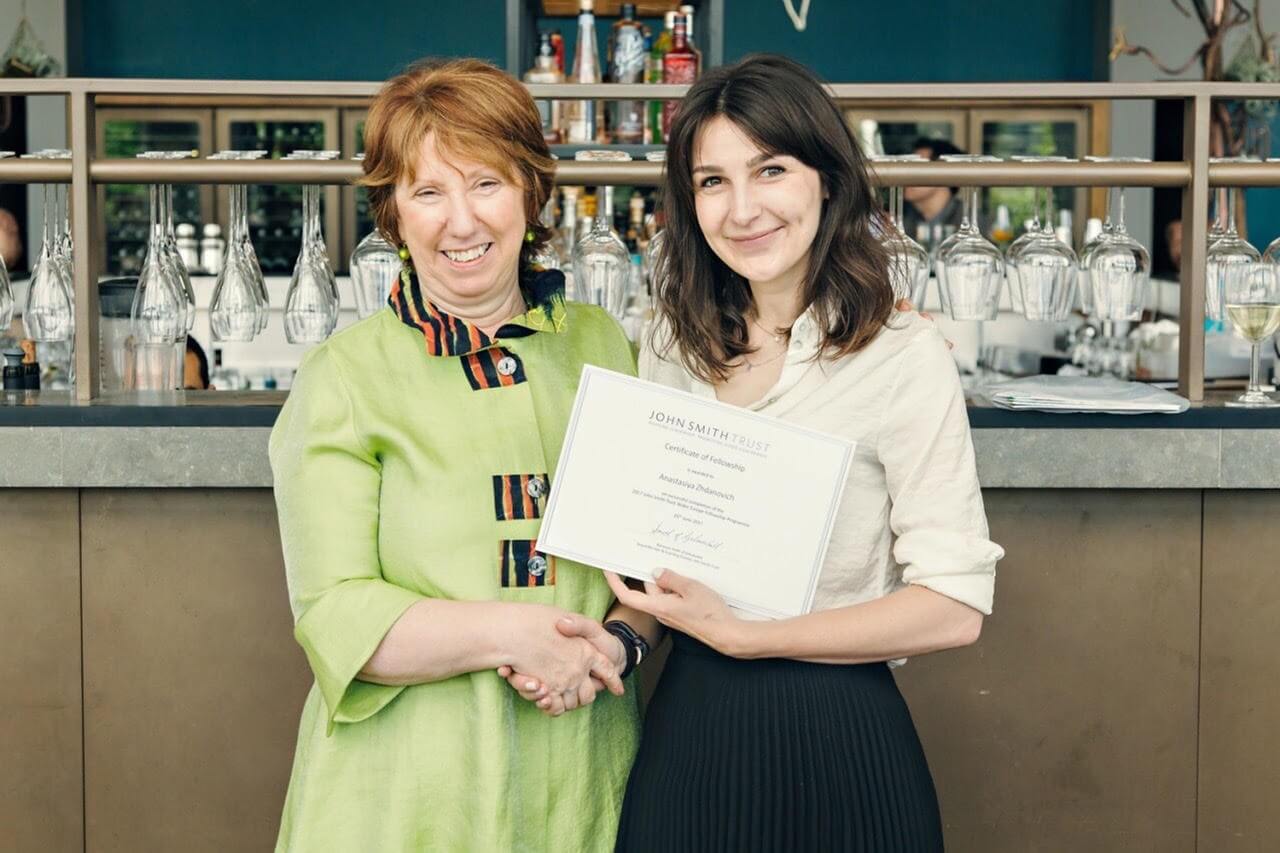 Anastasia Zhdanovich (JST Belarus Fellow) with Baroness Catherine Ashton, then Chair of the John Smith Trust.
Anastasia Zhdanovich is a lawyer from Minsk – a 3rd generation lawyer in a family of lawyers in fact.  Deeply impacted by the effects of the Chernobyl nuclear disaster she saw around her while growing up, she was determined to make a positive contribution to the health of her country.  So, Anastasia specialised in environmental law at university and in 2009, became head of the 'Belarusian Environmental Movement' NGO. There she worked in natural resources management, climate change and environmental law for various projects for the EU, UNDP and Global Environment Facility (GEF). Notable achievements included the first ever hazardous waste management system for Belarus under the Stockholm Convention and initiatives for planting tens of thousands of trees for land restoration – one of the most successful GEF small grants projects in Belarus.
By 2017, when Anastasia was accepted for the John Smith Trust Fellowship Programme, the environmental movement in Belarus was still small but passionate.  Her NGO work was bringing environmental, social and economic impact to Belarus but Anastasia was aware that she needed to understand better how to appeal to various broader groups – individuals, businesses, local communities, local and central government – to explain the importance of environmental issues and to get them more involved.  Thus her Action Plan and her learning from the UK focused on the enhancement of collaboration in the field of environmental protection.
As part of her individually-tailored Action Plan meetings in the UK, Anastasia spent time with the experts from the International Tree Foundation, the National Trust, Greater London Authority and the Woodland Trust. She also took part in a high-level conservation event – London Tree Week – which celebrates and appreciates London's trees with a week of events and activities to promote the importance of trees and woodland across London. Seeing how campaigns are managed and how the marketing, communications and social media is organised was incredibly helpful to Anastasia.  She also learned about organising volunteer conservation programmes and about environmental policy around new urban developments.  Anastasia says she was particularly inspired by the Woodland Trust which helped her gain a thorough understanding of how a large conservation charity is organised and managed.  By the end of her meeting with the Woodland Trust, it had been agreed to sign an Agreement of Cooperation to exchange expertise between the two organisations and countries.
Upon her return to Minsk, Anastasia was keen to scale-up efforts in restoring forests. However, in looking at the project, she realised that there was an acute bark beetle epidemic which needed urgent and innovative measures.  Lessons learned in the UK on community collaboration helped her not only secure funds for her NGO to run the project but also raise additional funds from the local forestry and business organisations.  Today, 1 million trees have been planted and more than 160 hectares of land, damaged by bark beetles, have been restored. The increase in forest cover has helped reduce greenhouse gas emissions and the project also helped establish partnerships with 16 organisations including governmental bodies, NGOs, local communities and businesses. In 2019, the bark beetle initiative received the UN's Global Compact 'Partnership for Sustainability' award in the 'Planet' nomination.
Of her John Smith Trust experience, Anastasia says, 'The JST Fellowship Programme gave me incredible opportunities to take my dedication and skills to the next level and beyond. The access I received to high level UK experts and senior leaders in the field of environmental protection and conservation accelerated my ability to implement important environmental projects in Belarus which attracted collaboration and partnerships.
Anastasia is currently working on the 'Tree Planted' platform which aims to unite leading organisations around the world working in tree planting, allowing millions of people to plant trees and participate in climate change mitigation with one click. In recognition of her achievements, Anastasia has been awarded the title of 'Environmental Leader' by the University of California, Berkeley; selected as a Climate Reality Leader by the former U.S. Vice President and the Nobel Prize Laureate, Al Gore and became a Global Ambassador at the 'Women in Tech' network to promote climate tech worldwide.
OCTOBER 2020