Moldova: opportunities in the midst of crisis?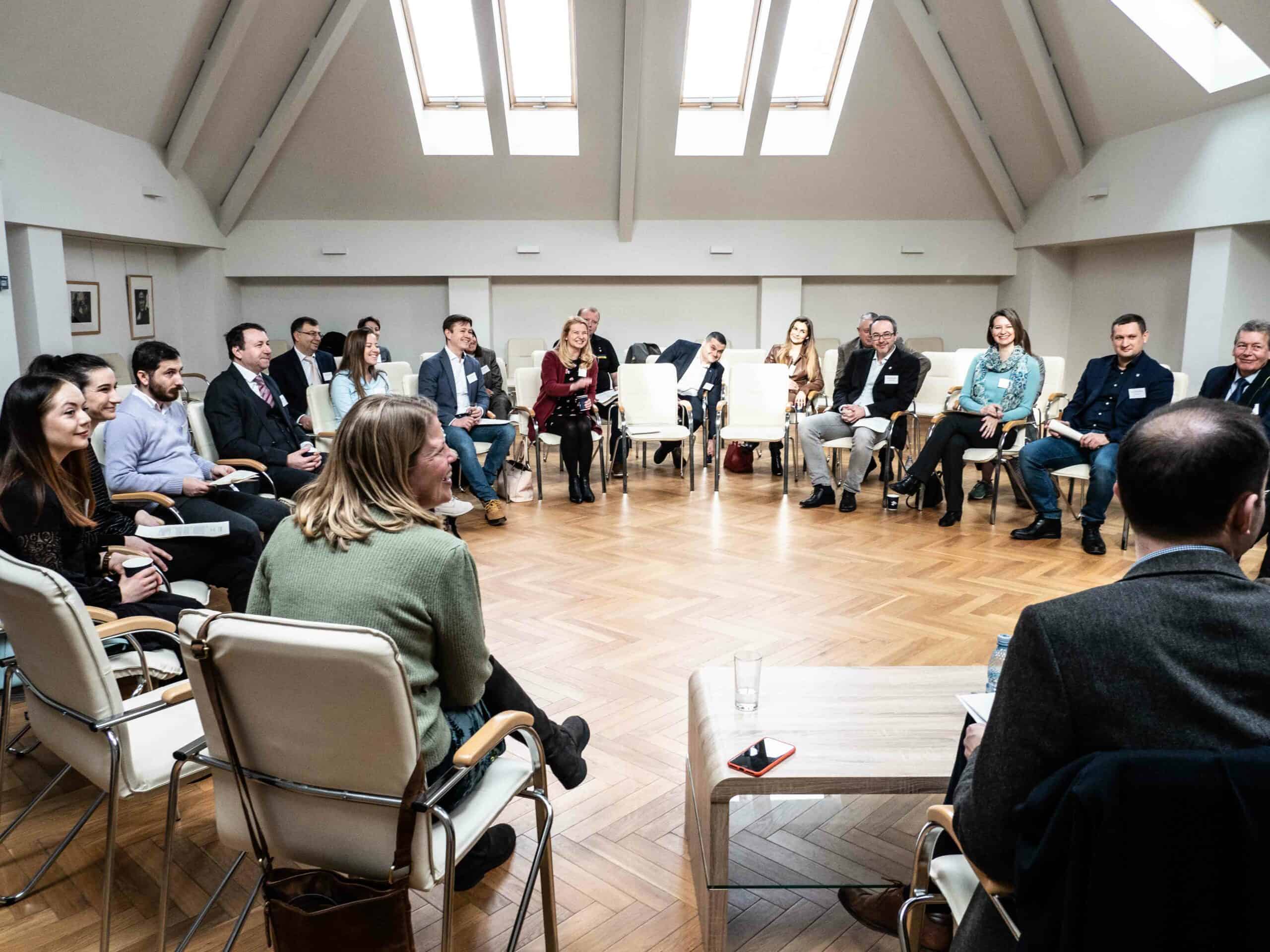 Amidst multiple crises and ongoing challenges, Moldova faces a critical moment on its path towards better governance.
As the anniversary of Russia's full-scale invasion of Ukraine arrives, neighbouring Moldova is at a pivotal moment. The 'small country with a big heart', which has welcomed hundreds of thousands of fleeing Ukrainians in the last year, faces a struggle to defend itself against Russian aggression. It is also trying to continue along the path to better governance, which began when pro-European Party of Action and Solidarity (PAS) won a landslide election victory in 2021.
Moldovan John Smith Fellows, who recently participated in a network meeting in Chisinau, which involved John Smith Trust Trustees Stephen Gethins and Craig Oliphant and members of the John Smith Trust team, described how fears of a military invasion gave way to the realisation that Moldova is at the frontline of Russia's hybrid war.
The government has had to navigate a series of political, economic and security crises triggered by Russian aggression. Moldova has been subject to Russian energy blackmail, plunging the country into blackouts and its people into economic hardship. At the same time, Russia has waged a disinformation campaign, seeking to undermine social cohesion and the government's agenda. And 770,000 Ukrainian refugees have crossed the border into Moldova since February 2022, 109,000 of whom are currently living in the country.
John Smith Fellows in Moldova
There are 44 John Smith Fellows in Moldova, as the Trust has been welcoming the country's brightest emerging change-makers to the UK as part of our Fellowship Programme since 2000. The Trust regularly brings Fellows together through our online and in-person network activities to share information, expertise and experience across countries, sectors and cohorts. Since the invasion, Fellows have been meeting to discuss the impact of the war on their societies and their countries' development trajectories and how best to support those navigating the crisis.
At the Chisinau meeting, Moldovan Fellows from different sectors and backgrounds shared perspectives, together with counterparts from Ukraine, on the challenges and opportunities emerging for the region from the crisis. Olimpia Gribincea, a John Smith Fellow since 2012, said: "I really value the opportunity for us to come together for an open discussion, even if we don't all agree with each other. What's important is that we can debate and disagree in a civilised way – this is just what we need in Moldova."
The Fellows agreed that the war has threatened shared values across the region as a whole. There is a need to promote a sense of "sustainable solidarity", in actions and not just words. This must last for many years, not just as a response to the immediate threat posed by the war. And everyone – irrespective of the sector they work in – has a role to play.
Liza Mamaliga, who runs a social enterprise in Moldova, said: "We are in a crisis because of the war. Economically, we are below sea level. I think every one of us should find their way of helping in this situation. We need to build resilience."
Security threats
Since the start of the war, Moldova has faced both a very real security threat and a "hybrid war" of disinformation and energy blackmail. Recently, allegations emerged of covert Russian attempts to destabilise Moldova. As Moldovan lawyer and John Smith Fellow Olga Diaconu put it, "since the war started no one knows what to expect and what the next day will bring."
Igor Munteanu, a pro-EU politician and a John Smith Fellow since 2001, said: "We understand very well that Moldova is a potential victim to Russia's aggression machinery. Therefore, people in Moldova do not feel very safe. They demand and they ask questions to the government. They would like to see that their lives and families and relatives are protected.
"We are not bombed and shelled by the Russian artillery, but a lot of people have left their homes, emigrating to the West or Romania. We have also received hundreds of thousands of Ukrainian refugees. Moldovans would like to see institutionalised way of protecting Moldova."
Energy crisis and disinformation
Over the winter, arguably the biggest challenge Moldova has had to navigate is its energy crisis. With funding from the EU, it has brokered an energy deal with Romania, helping to break its dependence on Russian gas. At the same time, Russia has waged a relentless war of disinformation, intending to deepen dissatisfaction with the government over its handling of the energy crisis and exploit cultural divisions within Moldovan society.
The Fellows agreed that countering disinformation was one of the most important areas where they could make a difference. Olimpia Gribincea, a senior lawyer, said: "Russia is very powerful in influencing the policies in the country through propaganda and disinformation. That's why the rest of us who can help and be involved in educating the citizens, the young generation, should do it."
Alexei Tulbure, Founder of the Oral History Institute of Moldova, added: "Our people used to watch Russian television and believe what it was saying. Now it's very difficult to change their minds, but we are trying to do this. It is important that we understand this is a problem, and we work with that."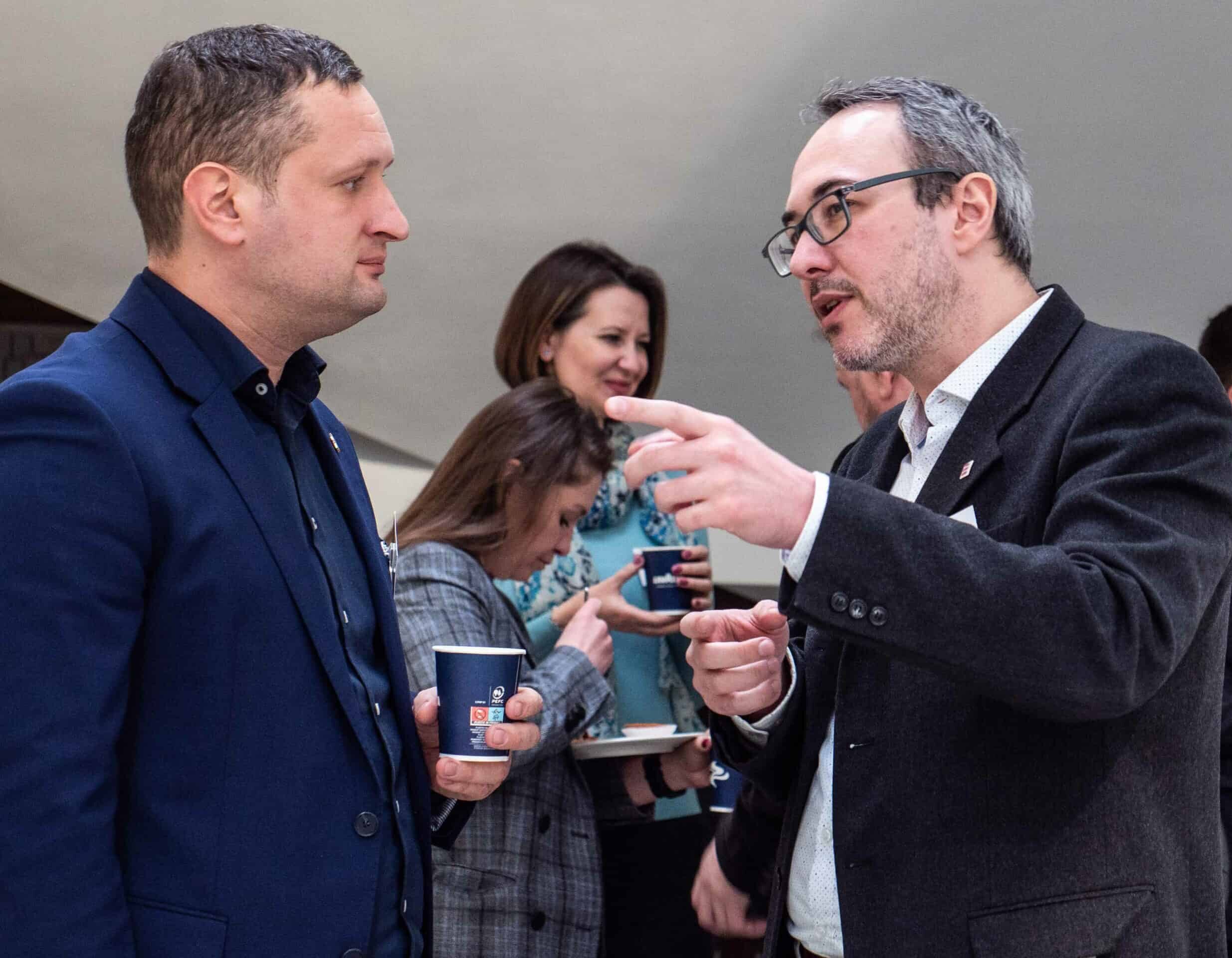 Opportunities for Moldova
Even at this difficult time, there are opportunities. In June 2022, the EU accepted Moldova as a membership candidate, alongside Ukraine. The country's president, Maia Sandu, wants Moldova to join the EU by 2030.
The newly appointed prime minister Dorin Recean has reaffirmed Moldova's strategic commitment to peace, stability and greater European integration. Moldovan Fellows will be playing their parts too – whether they work in the public sector, civil society or business.
"The role of leadership of the country, especially in this challenging time with this regional turmoil, is very important," said Natalia Djandjgava, a project manager for the Crisis Management Initiative. "I would definitely confirm that following the principles of good governance and trying to improve the existing practices in the country would contribute to a smoother European integration path. This would be also for the benefit of the people and will improve livelihoods here."
Shifting dynamics
John Smith Fellow and MP Andrian Cheptonar said: "Corruption was generally for decades a method of hybrid warfare that Russians were corrupting our politicians and they were then conducting the Kremlin's interests in this country. I'm sure we've stopped a part of this, but there is still a lot to do in front of us."
Artem Shaipov, a Ukrainian lawyer working on civil service reform, considered how Moldova and Ukraine could contribute to the EU's mission, as well as benefit from integration. These countries seeking to join "should see where they could provide some inputs so that the European Union can indeed deliver on what is expected of this institution," he said.
Fellows also discussed the shifting dynamics and emerging opportunities to build confidence with Moldova's break-away region, Transnistria, as a result of the economic realities of the war.
Supporting each other
All the Fellows also agreed that their networks, such as those built and nurtured through the John Smith Trust, provide invaluable opportunities to contribute to their country at this difficult time.
"I'm very passionate about maintaining open lines of communication among Fellows," said Doina Bancila, a corporate governance consultant. "Professional networks are one of the most precious resources you can have in the very challenging time we're living in right now."
For Liza Mamaliga, the network meeting was an inspiration to "just get together in our communities" more often without it being organised from the UK, because it's so important "to discuss things and to find the causes of the problems and to think of solutions and to exchange opinions."
And Andriy Shevchenko, co-founder of the Media Centre Ukraine, encouraged Moldovan Fellows to look at Ukraine's network for inspiration for navigating the current crisis. He said: "You see John Smith Fellows all over the place, in the parliament, in many agencies, in the government, in civil society, in the business community. It's a wonderful network, a strong community, inside Ukraine. We help each other, we energise each other. It's a very meaningful way to support each other.
"When there is a dramatic moment of life in the country, you see those people not as someone who stands aside. You see them in the middle of all the changes; in the middle of the fight."
Find out about our fellowship programmes.
Photo by Sarah Oughton.