The value of leadership networks in times of crises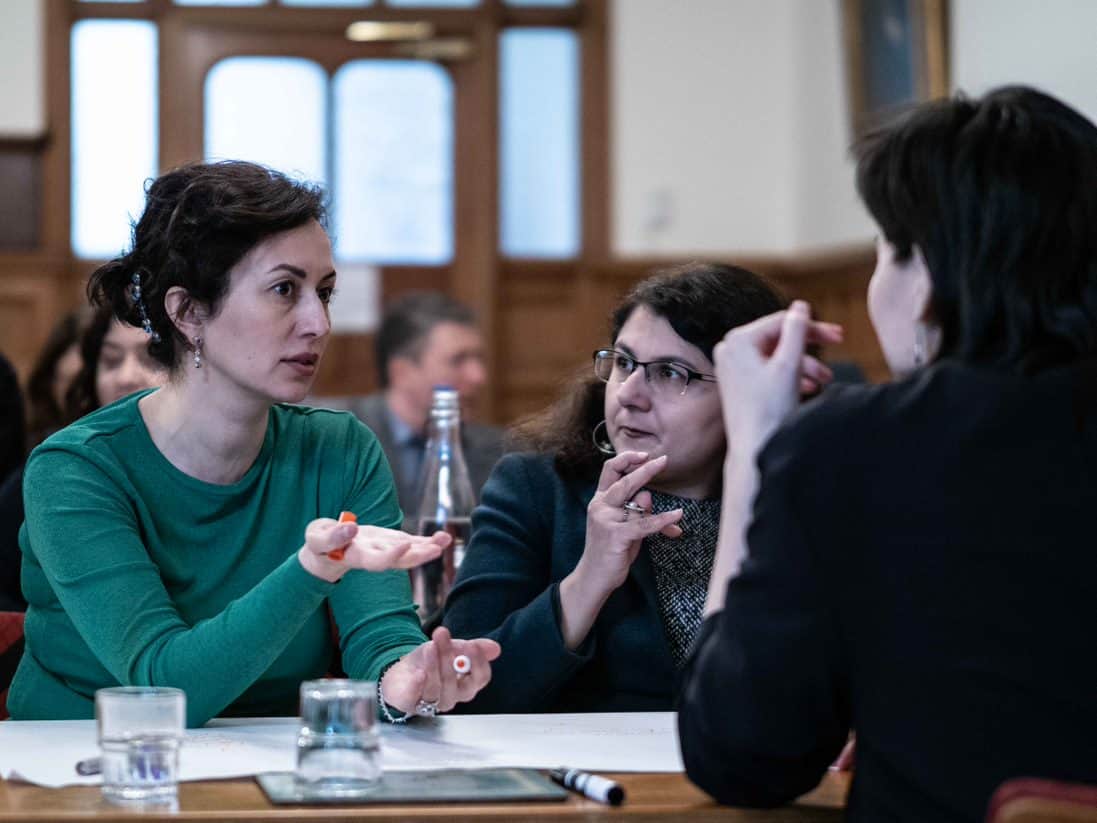 Fellows from across Eastern Europe,

the

Caucasus and Central Asia

are

r

ethink

ing

g

overnance and

l

eadership

in the context of ongoing global crises
Russia's illegal invasion of Ukraine is likely to define the strategic and economic contours of the coming decades and will have a fundamental impact on global security, governance and development.
Twenty-eight Fellows from 11 countries joined an Ideas Exchange in Oxford (UK) at the end of March to share insights, expertise and experience on these themes. Over the course of four days of workshops, presentations and roundtable discussions, they discussed what leadership and better governance means in their countries and region during this time of insecurity and conflict and looking forwards. At the heart of the Ideas Exchange was an emphasis on listening to each other's perspectives and learning from each other, and Fellows shared their ideas and experience generously. The John Smith Trust and the Centre for Democracy and Peace Building jointly hosted the programme.
The Fellows come from diverse backgrounds in the public, private and civil society sectors – including law, journalism, politics, non-profit leadership and the civil service. Many of them spoke about the value their John Smith Trust fellowship has brought to their careers, countries and the wider region.
Solidarity and support
Pavlo Khazan, a Ukrainian Fellow from 2008 and former head of science and engineering at an Environmental Monitoring Centre, is now serving in the Ukrainian Army. He said: "The fellowship is a great network for communication. It means a special spirit, for me personally, and the possibility to exchange ideas and meet with beautiful people. Especially this time, during the war, it's very important that we have friends, and we have this huge support.
"This is a pivotal moment of democracy in this war. This is not just a war between Russia and Ukraine, but this is a Russian war against democracy. And that is why it's important to have this solidarity and support."
Also reflecting on current tensions, Anton Radniankou, a 2018 Fellow from Belarus and director of the Centre of New Ideas, a think-tank in Belarus, said: "Our region now lives in difficult times. The future is uncertain, and the present is quite dark as well. This programme gives a unique opportunity to meet with leaders from different countries of the region to exchange experiences, to exchange ideas, to tell our stories about the situation in our countries to other members."
United like a small UN
At the time of her fellowship in 2017, Bella Gazdiyeva was the mayor of a rural area in Kazakhstan. She said: "Being a Fellow enhanced my skills and knowledge and had an impact in my career." Two years after her fellowship, Bella gained a higher management position and became responsible for the civil service training and development of the whole region "which is more than five thousand people taking and making decisions." While she was at the Oxford Ideas Exchange, she found out that she had been successful in her bid to become an MP of the Aqmola region Maslikhat (regional Council) and a member of budget committee.
Bella added: "I truly believe that the programme helps to bring the best people, give them this experience, being united like we are a small UN. We bring it back home and make our world better. The John Smith Trust teaches us more about how to build a dialogue."
Shared values
Ketevan Khutsishvili, from Georgia, is an international law specialist who completed her fellowship 20 years ago. At the time, the process of devolution was underway which saw Scotland gain greater autonomy from Westminster, and Ketevan witnessed first-hand how this process worked. Back home in Georgia, she contributed to the establishment of human rights protection systems and has worked extensively on criminal justice reforms.
"The most valuable part of what unifies people under the John Smith Trust's fellowship programme are the values of human rights, rule of law and social justice," she said. "The way the programme was designed makes all of us feel that we are part of something great. On the one hand, it links our countries to the United Kingdom. On the other hand, it gives us an opportunity to bring the experience and knowledge – and maybe sometimes mistakes that somebody has made in his or her country – back to our jurisdictions to try to make changes for the better."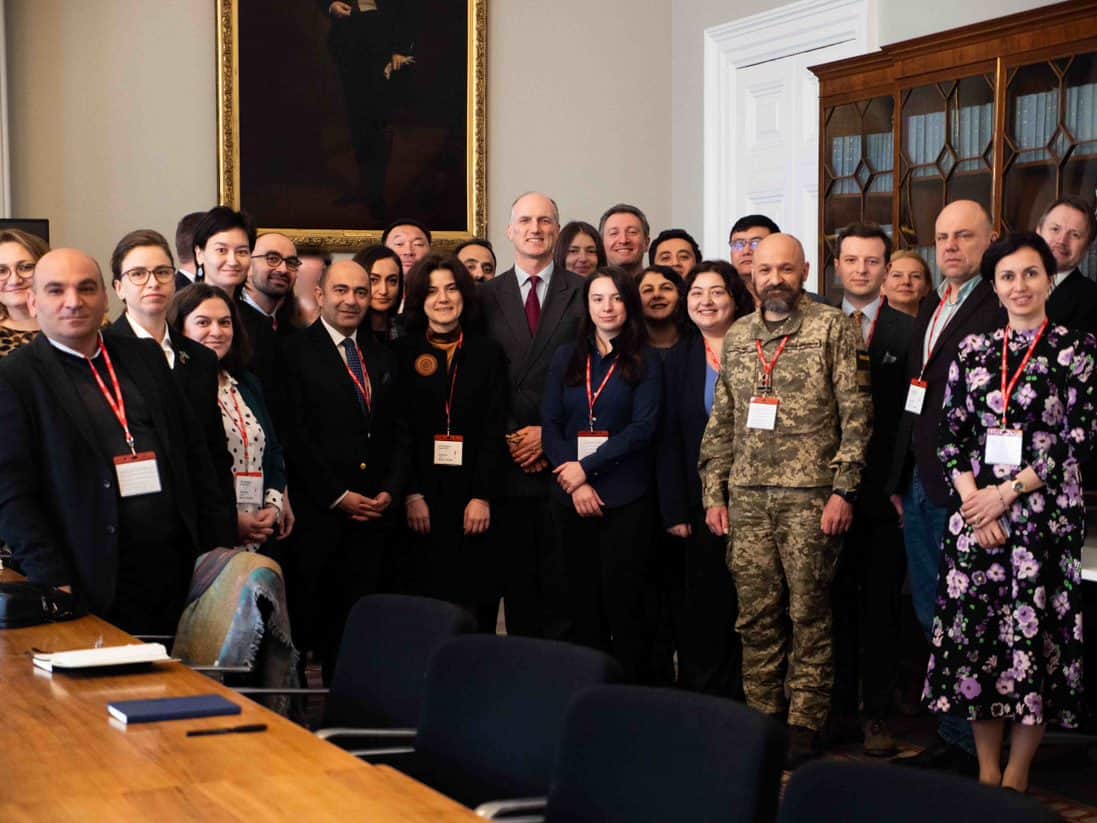 Visionary impact
Shahla Ismayil, from Azerbaijan, was also in the early stages of her career when she undertook her fellowship in 2005. The women's rights and gender equality activist has since managed more than 100 projects in her country. She says: "I've been working for this goal for many years to motivate women to become equal members of society, to increase their education, to have more access to justice. I think that the John Smith fellowship programme has had a very fundamental role in my career.
"When I was in the UK, I had a good opportunity to meet many politicians, but also academicians, people from civil society, media, government. The fellowship had a visionary impact on my life. It gave me so many good examples of how we should go, where we should go, what to achieve and how to achieve. When I returned to Azerbaijan, I knew exactly what my pathway would be."
Expanding networks
Komroni Radzhabiyon, from Tajikistan, is an Associate Officer at the Asian Infrastructure Investment Bank. He said: "When I participated in the fellowship programme in 2018 I found it was an opportunity to connect like-minded people of Central Asia, and beyond, in the Caucasus and Eastern Europe. The network of such talented people from all over the region under the JST umbrella helps in building closer and stronger fruitful ties to serve our nations and region. This is very much in line with the spirit of John Smith ideals who said in his last speech: "the opportunity to serve our country – that is all we ask."
And Uluk Kydyrbaev, a 2011 Fellow from Kyrgyzstan who is USAID's enabling environments partnership lead, said: "Being a John Smith Fellows is an honour for me, specifically to be selected and to be part of this family. The network unites very unique people. Each of them has a unique background and experiences. I think building on that we can – and we should –make changes in our countries and the region overall."
Addressing ongoing challenges
Over the coming months the John Smith Trust will be publishing a series of Insights articles developed from ideas generated during the Ideas Exchange. They will explore new approaches and strategies for addressing current challenges and for navigating the challenges ahead.
Find out about our fellowship programmes.
Photos by Sarah Oughton.