Ukraine: what our Fellows are doing and how you can help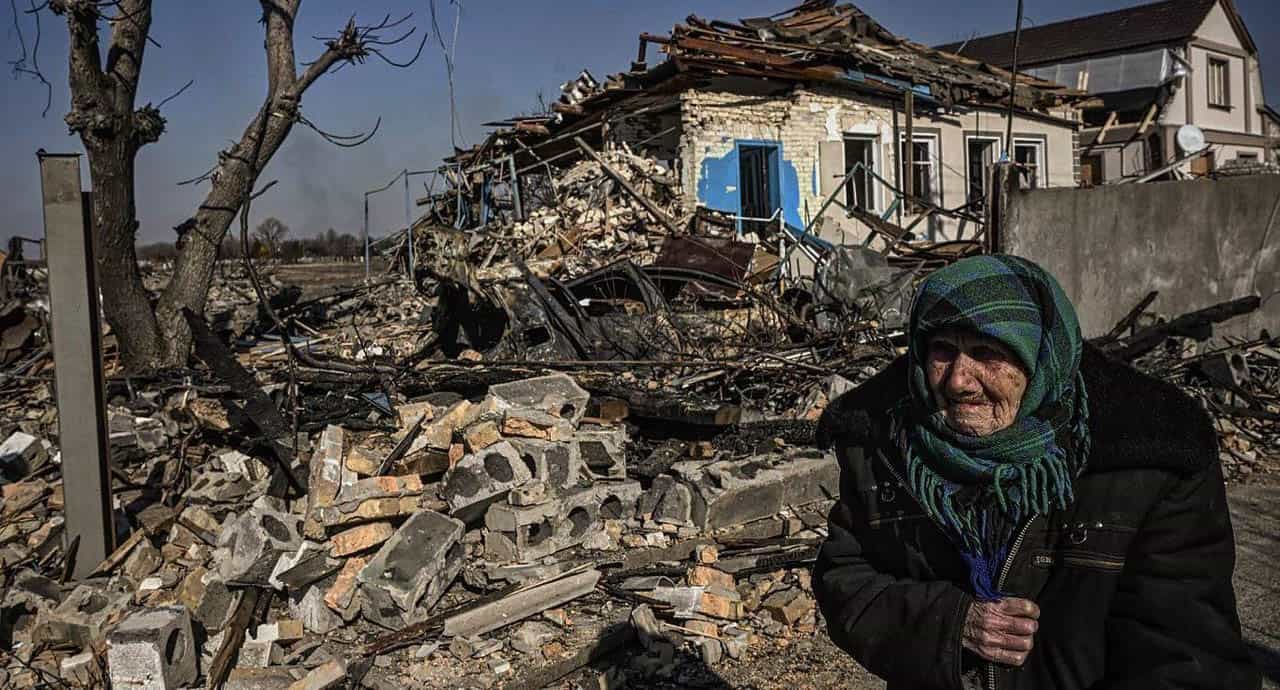 One of the most important things that we can all do to support efforts to halt Russia's unlawful attack on Ukraine, is to keep informed and to share facts about the war with others. This point was made very clear during an online event at Chatham House in May.
Currently, many of our Ukrainian Fellows are playing a vital role in ensuring accurate and credible information is being communicated with the wider world.
And many more Fellows are working behind the scenes and across different sectors of society, both in Ukraine and across the region, to counter the impacts of the Russian invasion. We feel privileged to count this remarkable group of leaders among our Fellows.
Below you can find out about some of the work Fellows are currently doing in Ukraine. As Mykhalo Nakhod said when we spoke to him recently: "At this time, we appreciate every action that comes to the aid of our Armed Forces and people in different cities of Ukraine. Together we will win."
Credible sources of information from Ukraine
Please follow and share posts from:
How you can help with donations
Viktor Liakh, president of the NGO East Europe Foundation, has set up the shelter project for internally displaced people. They are providing emergency assistance to people in Ukraine who have lost their homes, including those who are trying to flee to safer places. Details of how to donate are on their website.
Mykhaylo Nakhod co-founder of civic movement Svidomi, based in Western Ukraine, turned his organisation into a volunteer humanitarian mission – Euro Aid – the moment war broke out. They are looking for military security equipment – bulletproof vests, helmets, tourniquets, first aid kits – as well as foods with long shelf-life, medicines and hygiene products. If any organisation or citizen from the UK wants to help they can write to Mykhaylo on Facebook Messenger, or via svidomi.office@gmail.com.
Tanya Kuzmenko is a Ukrainian travel blogger spreading the word about Ukrainian culture, raising awareness via her You Tube channel of how Ukrainians live abroad (in Ukrainian) and also collecting donations to "bring Ukraine closer to victory." You can find links for donations under the recording of Tanya's recent stream.
Oleksiy Goncharenko is a Ukrainian MP and founder of Goncharenko Centre of Education and Culture with offices in many Ukrainian cities. Since the beginning of the war, the centre changed into volunteer hubs to support refugees and the Ukrainian Army.
How you can help with education
Artem Shaipov helped launch the Ukrainian Global University (UGU) to support Ukrainian students and create a pool of educated people able to help rebuild the country after the war. If you work at an educational institution – anywhere in the world – or have good contacts with them, then please consider helping UGU.
Compensation for victims of the war
Oleksandr Vodyannikov is currently a consultant at Ukraine's Law Reform Commission, which advises President Zelensky on the country's legal system. Oleksandr is working on possible mechanisms to bring claims against the Russian Federation and compensate civilian victims of the war in Ukraine – an area he feels has been overlooked in favour of considering how to finance the country's reconstruction after the war.
Free Ukraine
Ostap Kryvdyk is the international secretary for the resistance movement Free Ukraine – a network of those resisting Russian occupation of Ukraine, both on the frontline and behind enemy lines. He is also serving as a military fireman in one of Ukrainian military units.
Protecting the environment
Olya Melen-Zabramna is head of the legal unit at Environment-People-Law, where she is working with colleagues on collecting information and analysing the risks to the environment from Russian aggression. This includes a whole range of risks – such as management of the nuclear plants and how to deal with forest fires in areas of occupation. They are collecting cases of damage to the environment caused by the Russian army and are looking at international avenues for pursuing compensation for the damage done.
Digital support for humanitarian aid
Maksym Shkilov is director of digital transformation projects at the Ministry of Digital Transformation of Ukraine. He is a member of the SpivDiia team, an official platform created to unite volunteer and state initiatives for humanitarian aid during the war.
Rebuilding homes
Irina Zubrytska co-runs UkrBudivnytstvo, a platform designed to facilitate communication between construction service customers and those who provide them. The project's aim is to help Ukrainian families begin rapid restoration of their homes destroyed or damaged by the war. The platform helps re-establish the logistical links between people and companies that have been disrupted by the war.